8 Best Shopify Usage Statistics – [2023]
Last modified: March 19, 2023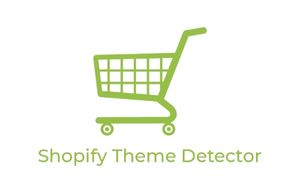 Shopify is one of the most popular and well-known eCommerce platforms. However, there isn't much known about its actual usage. In this article, we look at the best Shopify usage statistics and how they can impact your business' success.
Recommended: 10 Best Shopify Boost Sales Apps – [2023]
#
Name
Image

Get a Free Custom Shopify Store
1

Ultimate Sales Boost

2

Unlimited Smart UpSell Offers

3

Sales Pop ‑ Boost Sales

4

Sumo: Boost Conversion & Sales

5

SALES ROCKET ‑ 40+ APPS in One

6

Sales Notification | Sales Pop

7

Vitals: 40+ Marketing Apps

8

Stream Pop Up & Boost Sales

9

SMS & Web Push ‑ Pushnami

10

Sales Pop Master ‑ Countdown

Show More
Why Do Shopify Usage Statistics Matter?
There are numerous reasons why Shopify usage statistics matter. For one, they can help you determine the best way for you to build or manage your business. If you know that a certain is popular within a set amount of high-performing websites or that there is little competition within your area, you can make changes to your strategy.
There are also options to use the statistics to avoid mistakes that others make. For example, social media has one of the poorest conversion rates, yet that is the platform that most new eCommerce merchants rely on and few try to build a mailing list which has the best conversion rate.
And some people might use the Shopify usage statistics just for interest. Some people enjoy the statistics to learn and perhaps bring them up in conversations.
So what are the top Shopify usage statistics? Here are some of the most interesting facts about usage.
1. Over 70% of Domains are Registered in the US
The US has one of the highest usage of Shopify domains. More than 71.27% of domains registered are in the US. The next country with the highest registrations is the UK and then it is Australia. It is rather interesting that Canada doesn't feature in the top three considering Shopify is based within the country.
Also, China is one of the largest eCommerce companies in the world, but it doesn't feature on the list. However, the UK is the third largest eCommerce market, so it is not surprising that they are on the list.
2. Some of the Biggest Brands use Shopify
Some of the largest brands that are on Shopify include Nestle, Pepsi, Unilever and Budweiser. There are also some celebrities who use Shopify to sell merchandise like Adele, Kayne West and the Beckhams.
These brands tend to use Shopify Plus, which is the enterprise level of Shopify and has numerous benefits. However, the costs can be very high and you can be sure that the costs are not sustainable for many of the smaller brands that use Shopify.
Kyle and Kriss Jenner have used Shopify Plus since 2014, meaning they've used the platform for nearly 9 years.
Sport brands are very active using Shopify. Some fo the larger brands that are using Shopify in the niche include Gym Shark, LA Lakers, Decathlon and Fitbit. These brands are using the platform to sell from one location and reach a worldwide audience.
There are also some smaller businesses that utilize the platform. These brands include Little Paper Mill, the Cufflink Store and others.
3. 87% of Merchants use the Shopify App Store
Nearly every single Shopify merchant uses the Shopify app store. Shopify is only a basic platform and the platform doesn't have all the functions that most merchants need to make a successful website. The fact that only 87% are using the platform can be a little surprising. The uptake of this should be closer to 100% in theory, but there might be some reasons why there are merchants who aren't using the Shopify app store.
The reasons for this discrepancy might include.
Themes Include App Features: There are numerous themes, like Shoptimized and Booster that have numerous features included with them that are there to replace the apps. These features can actually perform better because they're designed to work with the theme and not a generic theme that can cause some compatibility issues. And there is some research that backs this up with about four out of five merchants using third-party apps, not those which are sold on the Shopify app store.
Cost: Another feature is that there are costs to using apps. Some merchants might not have the funds in order to purchase a load of apps that are on subscriptions. Most brands will use about 10 apps and therefore can spend up to $100 a month on apps before they've made a sale.
Not Running a Store: According to Builtwith.com, there are about 3,846,219 live websites using Shopify at the moment. However, there are nearly six million websites that are registered with Shopify. Therefore, there are lots of brands that have a website registered with Shopify. Therefore, only about 60% of registered websites are active and therefore 20% of websites are inactive but have apps from the app store.
The most used apps with merchants include Product Reviews, Klaviyo, MailChimp, Instafeed, Printful, Privy, and Loox. Most of these are related to product reviews, email marketing or dropshipping. Therefore, you can see how brands are using Shopify to run their stores.
However, too many apps can also slow down a website.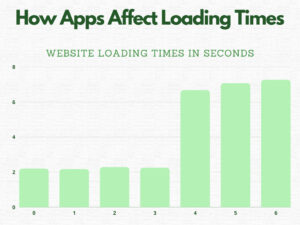 4. Shopify POS is Used by 100,000 Merchants
Shopify POS allows merchants to connect their Shopify website to a POS system for a brick and mortar stores. POS systems allow for one system that allows for better reporting. There are lots of different options for POS options for a store, but 100,000 stores use the free Shopify system. This can help with costs as well.
A Shopify POS system allows you to save money and keep all the payments going through the Shopify payment system, which offers a lower level of transaction fees.
In the UK, there are about 13,000 users of the POS app on smartphones. Therefore, there are a lot of UK stores that are using the app. They also account for more than 13% of all Shopify stores that are using the system.
5. Increase Conversions Using 3D Product Images
Customers are twice as likely to purchase a product if the products on the store have a 3D version. This can be a very interesting aspect as there are lots of brands that don't use the 3D product image. And it shows that consumers like to use this feature.
However, this feature could be rather challenging for some users. Mobile versions of the website might struggle with displaying the 3D version of the product, especially in areas that have poor reception or where loading times slow down the website. So it might harm conversions because no product image is displayed, unless the merchant includes both options.
However, it could help brands with conversions. The average conversion rate on Shopify stores is just 1.4%, whereas the average conversion for eCommerce websites is about 2.5-3%. However, the best converting Shopify websites can reach conversions of 8-10%.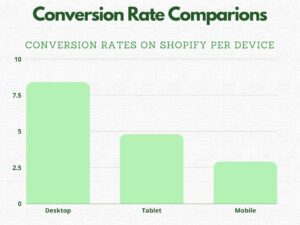 There are a few reasons for this. For one, most of the traffic on Shopify websites is mobile traffic, which is notorious for having lower levels of conversions. Also, numerous merchants rely on social media, which has one of the lowest levels of conversions compared to direct, search and email marketing.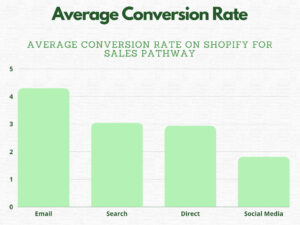 6. Shopify is a Big Player in eCommerce
It is important to consider that eCommerce is a growing trend across the world. About 17.9% of all sales across the world is done online. However, this figure is expected to grow to 24.5% by 2025. However, this might change with the current economic challenges that are coming.
Within the eCommerce platform market, Shopify is a big player. When you look at the largest million eCommerce store, Shopify and Shopify Plus have a 22% share of the market. This isn't very far behind the market leader, which is WooCommerce which has 25% of the market.
Shopify Plus has just 3% of the market, so many of the top-performing websites are using the basic Shopify platform.
There are other platforms that might be available as well. Magento has a market share of 8%, Wix has a share of 3% and Open Cart has 3% as well. The rest of the market (39%) is lots of other platforms that are of smaller operating systems. This is of course of the top one million eCommerce sites.
Outside of the top million can be more interesting. For example, in terms of all sites, Shopify is actually the fourth largest with just 10% of all eCommerce stores. WooCommerce is the largest at 37%, Squarespace has 14% and Woo Themes has 14%. What these statistics tell us is that while these platforms can attract merchants, the chances of succeeding with other platforms is harder than it is with Shopify. So perhaps Shopify is the better platform, especially for beginners.
It might also be noted that it is websites hosted outside of the US that change the market. For example, 29% of eCommerce websites in the US are built using Shopify whereas only 23% of US eCommerce websites are built with Squarespace.
7. The Most Popular App is Used by 379,000 Merchants
There are more 6000 apps on the Shopify store and nearly six million websites built with the platform. Therefore, you would expect that there are some apps that you can see on millions of websites. However, because there is so much choice within just a few select categories, it often means that there are a few apps that could ever reach that usage.
Therefore, if you look at the statistics, the top apps are only being used by 379,000 merchants. There can be numerous reasons for this. For one, some apps don't get the attention that they deserve. The average week sees nearly 100 new apps released on the platform and most of these won't make any money in the first year of production. Unless the develop has a good marketing program, they will not see the performance that they need to build a good revenue stream.
And there are statistics that show that you can determine the number of users based on the reviews. For example, Privy has one of the biggest set of reviews with more than 6,100. However, Privy is a marketing app and the team behind the development of the app are experts in getting more people to review the app.
Other apps like SEO Image Optimizer, Free Shipping Bar and Sales Pop all have lots of reviews. However, according to monitoring tools, none of these have lots of users either, they are just really good developers who can bring in lots of reviews.
A tracking website found that the most downloaded app is Product Reviews. This app has 379,383 users. The second highest used app is Klaviyo, their email and SMS marketing app has more than 238,000 users. The Shopify Inbox app has more than 235,000 users.
The most used apps on the platform are normally email marketing and review apps. Very few of the top apps are for social media and none are SEO apps. This is because there are so many SEO apps and therefore lots more choice for the audience.
It is interesting to note that the most used apps are free to install, but many of them have charges that can be incurred when they're used. When looking at apps that are premium (i.e. subscription charges), there is a wider distribution of categories with store designers, customer management and bundle operations as some of the most used apps.
Some of the top apps for paid categories include Loox, Feed for Google Shopping and HelpCentre. The average cost for these apps is between $5 and $10 per month. There are also apps like Vitals, which are much more expensive.
8. Usage of Third Party Integrations Slow Down Shopify Websites
It is important to note that research has found that when a website integrates with third-party applications will slow down the website. It can add as much as three-quarters a second for each integration to the loading times. That means that about 5% of your revenue will be lost. This can be a significant amount.
There are numerous third-party integrations you can add to your store with some of the most popular ones being social media channels, MailChimp, Dropshipping, review sites, Amazon, eBay and others.
Even a simple website could have lots of different integrations which can really slow down a website. But Shopify websites are built for speed. So while the average eCommerce website normally loads within 8-11 seconds, the average Shopify webiste can load within about 3-4 seconds.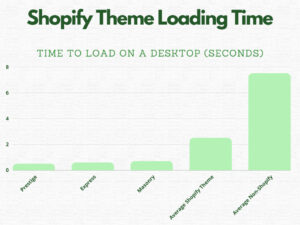 One of the factors is that some third-party apps will store data on another server, which requires additional requests to render images, sounds, videos or data. Therefore, this will slow down the website.
Final Word: The 8 Most Interesting Shopify Usage Statistics
These are numerous interesting Shopify usage statistics that you can use to improve your use of Shopify. The above statistics include information about installation, usage and cancellation. Which statistics do you like the most? Let us know in the comments.
FAQs
How many Shopify Stores are there?

There are nearly six million websites across the world that are built with Shopify. This makes it one of the top platforms in the world, with more than 10% of websites built online being built with Shopify.There are nearly six million websites across the world that are built with Shopify. This makes it one of the top platforms in the world, with more than 10% of websites built online being built with Shopify.

How many Shopify stores are live?

Above 60% of those sites that are built with Shopify are live on the internet at the moment. There are several reasons for this. Some of these sites might be in development, some might be in construction and others might be discontinued.

Which device do shoppers use to visit Shopify websites the most?

More than 3 out of every 4 visitors are visiting a Shopify eCommerce store from a mobile device. This does include tablets and mobile phones. However, in contrast to other website platforms, this is very high and it does impact the conversion of websites.

How many stores use the Shopify app store?

Only about 86% of Shopify websites are using at least one Shopify app store app. While this seems high, it is pretty low and there are numerous reasons for this including costs, ineffective marketing or that the store is using a theme that has numerous features.

How many stores use Shopify Plus?

About one in seven of the top performing Shopify stores are using Shopify Plus. However, it is interesting to note that only 3% of the top one million eCommerce stores online are using Shopify plus compared to 19% who are using Shopify basic platforms.

Is Shopify better than Squarespace?

Squarespace has more users, but they don't have the highest number when it comes to building a successful eCommerce website. Therefore, it could be interpreted that Squarespace is harder to achieve success on.

Is WooCommerce better than Shopify?

WooCommerce is the most used eCommerce platform. However, the chances of succeeding are higher on Shopify. Part of this could be because of website speed, which is much faster on Shopify websites. Also, Shopify is easier to manage.

How many stores use Shopify POS?

There are more than 100,000 users of Shopify POS. However, this is not the only POS app you can use on Shopify. There are some others which might be more suitable for certain brands. And many brands don't have an offline presence where they need Shopify.

Which country has the highest Shopify usage?

The USA has the highest number of websites built using Shopify. The UK and Australia are two other countries where Shopify is highly used. China, which is the largest economy for eCommerce is surprisingly not using Shopify a huge amount.

Is Shopify easy to use?

Shopify is one of the easiest platforms to use for any merchant. Whether you're new to eCommerce or an expert, you can use Shopify without taking too much time to learn the system. Therefore, you can build a successful business within hours and take orders quickly.
Avi Klein
Vast experience in the online world. SEO expert, Web developer and consultant to several online companies.
Read more...
. Read more about
our approach
to reviewing themes and plugins.