11 Best Shopify Charity Donation Apps – [2023]
Last modified: November 14, 2023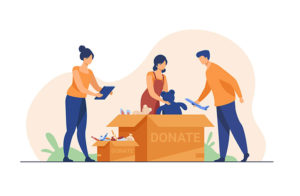 #
Image
Name

Get a Free Custom Shopify Store
1

Change Commerce ‑ Donation App

2

Give & Grow Donations

3

Virtue

4

Sales CountUp

5

Easy Donation

6

Shop for Good

7

Share The Love by W3

8

TipGenius

9

Cart for a Cause

10

EasyTree: Upsell + Charity

11

Round Up for Charity

Show More
Running a charity can be a challenge, especially when it comes to fundraising. Luckily, there are lots of options when it comes to raising funds on a Shopify store. You could sell merchandising like buttons, t-shirts and other accessories or tickets to events like galas, and you can also request donations. Or, you could be a brand that is looking to support a charity through donations made on your store. Whatever path you're taking, you should have one of the top Shopify charity donation apps.
What Will Shopify Charity Donation Apps Do?
Shopify Charity Donation Apps offer you a chance to collect a donation on behalf of yourself (if you're a charity) or as a charity. Collecting donations for a charity can increase the conversion rate on your store, as people like to think that their purchase will help a good cause as well. It helps to make them feel more prideful of the purchase.
Research has found that 85% of customers will have a more positive attitude to brands when they support a brand. And 94% of consumers think brands should do more than just earn profit.
Adding a charity button to get customers to donate more can be a good way to raise awareness for less well known good causes. And this can be a good option for brands to show their caring nature.
There are many ways that this can be done. Some charity donations can be a simple popup that appears on the page at a random time asking for a donation. Other options include a round up or additional donation product within the cart page. The idea of some of these apps is that customers add just a few cents to the charity at a time and when you have dozens of customers do that a week, the amount donated to charity is a considerable amount.
Key Takeaways
1
Adding a charity donation option can enhance a brand's image and demonstrate its commitment to social responsibility.
2
Various app features, like pop-ups or round-up options in the cart, make donating easy and effective.
3
Charity donation apps can also increase a store's average order value while supporting charitable causes.
Best Shopify Charity Donation Apps – Here's Our List:
Filter between free and paid
Change Commerce ‑ Donation App

When you install this app to your store, it allows you to give to a wide range of charities and not-for-profit organizations without issues. When you setup the app you will be given the choice to select up to six good causes to support. Then customers can select if they would like to support one of these. You can add lots of information about the good causes to your website. You're also able to choose which projects you don't want to get involved in.
When the customer chooses to make a donation, they can offer a percentage of the donation or a flat dollar for the donation. You can also set custom donation amounts on specific products or collections.
The customer can share that they've made a donation, via your store, to the good cause in order on social media. This allows for your store and the charity to gain much more exposure than it would otherwise. And customers can track donations, allowing your brand further exposure.
This app has been shown to increase average order value and improve conversions on websites. Therefore, it's an excellent way to improve business performance while also support charitable causes.
Change Commerce ‑ Donation App Highlights:
Can offer customers the chance to support one of over a million good causes.
Choose up to six to profile on your website.
Set a specific amount that customers can donate to the good cause.
Can help to increase the average order value and conversion rate on your website.
Give & Grow Donations
This app is trusted by numerous merchants and business owners across Shopify, including Snap, Bird, Discovery Inc. and more. It offers donations across the world and can distribute funds for you in more than 100 countries. All the donations received are processed through the platform, with no third parties. Therefore, more of the donation that customers give you will reach the good cause.
The app also allows you to measure and display the impact you're having on good causes. Displaying it can add a little pride to your brand and encourage other shoppers to complete a transaction with you.
There are numerous ways that you can use this app to help good causes. For one, you could round up for charity or ask for a $1 at a checkout. Or you can ask for a % or fixed amount per product from the customers, you can highlight which good cause each product supports. And each product can support a different good cause.
You can also support up to 12 nonprofits, with customers able to make a choice of which charity their donation will go to (or equally distribute it).
Finally, the app gives you real-time analytics of your hard work helping nonprofits. This can be a real good option in knowing if your good causes are relevant to your audience, or perhaps you could offer more support to another good cause.
Give & Grow Donations Highlights:
Support up to 12 nonprofits with your customers.
Customers can donate some of the transaction value or give up to a $1 in a single transaction.
See real-time statistics and analysis of your donations.
Can support good causes in more than 100 countries with no third parties taking a cut of the donations.
Virtue

There are lots of charities and good causes you can support with this app. You can partner with some of the UK's and world's most loved volunteer organizations, offering customers a chance to donate to them. This app works by offering a post-purchase option to support a good cause and you can choose which organization you will support.
From the list of hundreds, you can choose three to partner with. If there is a group close to your heart, you can also recommend them to the ecosystem and get them included. There are numerous ways to customize the app so it displays perfectly on your website with branding.
You can choose numerous or all products to be part of the donations system. This allows you to customize the options so specific products are relevant to certain charities that might be more relevant.
Virtue Highlights:
Choose up to three charities to support.
Choose which products are related to donations.
There are hundreds of charities you can support.
Easy to use system with quick install.
Sales CountUp
This app doesn't take any donations from your customers, but it does allow you to count up and display the amount that you've donated to charity and good causes. This helps you to build social proof on your website and this can increase conversions and average order value. It also makes customers trust you more and helps with repeat customers.
The app also helps in other ways, so you can build a strong proof that your products are popular and useful by how many times they've been sold. This helps you to promote bestsellers on your website. Or you could show how much conservation you've participated in by displaying how many trees you've planted or saved.
You can customize the design of how the numbers are displayed on your website and you can add count up images, emojis and animations to make your pages more interactive. You can also display certain information for just a specific time or you can aggregate sales for multiple products.
Sales CountUp Highlights:
Showcase how much money you've donated to charity.
Build social proof and trust with your customers.
Customize the look of the output with custom messages and more.
Aggregate sales of products or only display count up data within a set time period.
Easy Donation

This app allows you to add a donation option on the cart page that will allow you to collect money on behalf of charities through your store. It can be added to any website who wants to improve their corporate social responsibility while at the same time continue to operate as an eCommerce store. Those who are using Shopify Plus, you can opt to add the donation options to the checkout page as well.
If you prefer, you can also have an 'Easy Donation' page, like a product landing page. This page can collect the donation for the cause. This is the perfect option for brands that are blogging or information sites and there are no other transactions on the Shopify site. This also makes it a great solution for charities and not-for-profit organizations who want to have donations through their own website.
The app also allows for non-profit products to be sold. If you're raising money for a charity as a CSR campaign, then you can have numerous charitable causes you support and customers can choose the one they wish to donate to. With the 'pro' version of this app, you can create as many donation pages as you would like.
The app will provide the customers with a receipt, that will be sent directly to the customer and can be customized by you within the app settings. You can also allow the customer to donate more if they want from the standard settings that come with the app ($1, $5, etc.).
There are lots of other customization options that can help you make your site a great place for helping local, national or global good causes.
Easy Donation Highlights:
Allows you to create donation pages for your good causes.
Collect donations on your cart and checkout pages.
Can send receipts to your customers after they've donated.
Lots of customization options for your store.
Shop for Good

You can use your existing buyer behaviors to drive sales and raise money for charity. Your customers can make donations to your preferred nonprofit partners during the traditional purchasing process on your Shopify store. You can also have multiple good cause campaigns for your site. With the app you can respond to events happening in the world in real-time and launch social good campaigns within minutes.
Or, if you want your hard work to continue on for a long time, you can launch an ongoing series of campaigns without too much hard work.
There are lots of options available for your brand. You can reward customers for being caring by offering a discount when they donate to your good cause. Or customers can round up their cart total and donate just a few cents to a charity of your choice. Another option is to have a fixed percentage or fixed amount that will be given to charity with every purchase made on your site.
And you can see the effect your campaigns are having. From the detailed analytics screen you'll see how much you've raised and whether there has been an up-tick in the average order value and conversions on your website. Those who have already used this app have seen an increase in both AOV, conversions, social media engagement and brand loyalty.
Shop for Good Highlights:
Lots of options for raising money on your store.
Helps to improve results on your eCommerce store.
Have lots of good cause campaigns throughout the year.
Track the results of your campaigns.
Share The Love by W3
Create a list of good causes you want to support and allow your customers to support the cause they want to from your store. They can choose what they donate and this can be a specific amount of the order value or a percentage.
There is an advanced analytical suite that allows you to see what orders have generated donations, what has been donated in total and this can be run by order or date range.
While most other apps automatically make the payment, this app does not. It is up to the store owner to send the payments to the charity.
Share The Love by W3 Highlights:
Customers can donate a fixed amount of a percentage of the order value.
You can choose the good cause they donate to.
Store owners are responsible for sending money to charity.
Great analytical suite.
TipGenius

This is an app that offers tipping and charity donations in a handy pop-up for your store checkout. The customers have the choice of whether they want to add the tip or donation to the order once they've clicked on the checkout button. The popup dialogue box is completely customizable. You can change the call-to-action, currency and the amount that the customer donates within the handy settings that are offered by the app.
If the customer has already added a tip, the AI prevents the popup from showing again. Therefore, customers won't get annoyed at being asked multiple times.
The app can be customized to show-up only when certain products have been added to your store.
TipGenius Highlights:
Shows a popup at the checkout page asking customers if they would like to donate to a good cause.
Adds the amount to the total in their cart, it is the store owner who needs to forward funds.
Customers who have already donated won't be asked again.
Can be disabled or enabled for certain products.
Cart for a Cause
If you want to raise funds for a good cause then this app can really help you. A good fundraising app can support your AOV, brand loyalty and LTV. This app allows you to accept donations to your chosen good cause that is processed through the Shopify Payments option.
There is a one-click installation, and easy integration and you can support any charity from numerous options available. You can create lots of campaigns that can last for days, weeks or months. You're also able to customize the look of the engagement pages to ensure your brand is still featured. Customers can also be given a choice of which charity they would like to support. Choose five different charities to include in a drop-down menu.
This easy-to-use app can help you build trust with audiences and helps you to improve your CSR which can help increase revenues in the long term.
Cart for a Cause Highlights:
Easy installation.
Choose up to five charities to support from a list of thousands.
Simple payment processing options.
Integration is pain free.
EasyTree: Upsell + Charity -
Inactive

Environmental issues are a massive cause in today's economy. People are looking for ways in which they can buy the products they want and also offset the carbon footprint that they leave behind. One option for this is to have a tree planted for them with every order. This is where EasyTree allows you to participate in such a scheme.
With this app you can ask customers if they would like to donate some money to have a tree planted on their behalf. The money that is left over from the tree planting is also given to you, the store owner, rather than the app developers keeping it themselves.
This strategy is great for marketing and building trust and social proof of your brand. Customers who are environmentally aware are more likely to purchase products from you and you can prove your commitments to a more sustainable economy.
To help sell this idea to your customers, you can customize the headline and description in the prompt to plant a tree. This can be so you can highlight the impact the tree can have on the carbon footprint or the benefits of reforestation. You can also charge whatever you like for the tree planting. For instance, you can charge $1. The tree planting costs $0.50, and you get to keep the other 50 cents. This can be kept for extra profit or you could donate that to another charity.
EasyTree: Upsell + Charity Highlights:
Ask customers if they would like a tree planted on their behalf.
Charge a specific amount for each tree.
Keep any left over money from planting the tree.
Edit the message for the tree planting.
Round Up for Charity -
Inactive

This app allows you to ask customers whether they want to round up their cart total and donate the extra amount to charity. This can please customers as they feel that they, and you, are also supporting the community. Research has shown that 95% of customers will be willing to participate in such good causes.
The app works as soon as it is installed on your store and works completely in the background. Proceeds from your sales are collected every week or month, depending on the volume of your transactions. And you can see how many donations are collecting from the Round Up app administration panel that is within your Shopify backend.
You can choose the partner that you wish to support, whether that is a local charity or a global cause that is hitting the headlines. You can also change your mind and support a new charity every so often. There are dozens of potential good causes that you can support with the app. And if you want to have a new charity added, you can speak to the developers.
Round Up for Charity Highlights:
Allows customers to round up their cart totals and donate additional amounts to your favorite charity.
Want to add a new charity to the app's list, just speak to the developers.
Track what is donated at any point in your website.
Donations are collected on a weekly or monthly basis.
Enhancing Your Shopify Store with Charity Donations
Why Integrate Charity Donations?
Integrating charity donations into your Shopify store resonates with today's conscious consumers. This demographic, growing in size and influence, prefers brands that align with their values.
By incorporating charity donations, your store not only contributes to societal good but also connects with these value-driven customers, enhancing brand loyalty and trust.
Streamlining Donations with Apps
Shopify Charity Donation Apps simplify the donation process, making it efficient and user-friendly.
These apps automate various steps like selecting causes, managing donations, and integrating them into your store, saving you time and resources.
Choosing the Right Donation App
Selecting the appropriate charity donation app for your Shopify store involves considering factors like app features, supported causes, and pricing.
The right app should align with your brand values, offer a range of features to engage customers, and fit within your budget, ensuring a harmonious integration with your business model.
Maximizing Impact and Engagement
Communicating Your Impact
Effectively communicating your charitable contributions to your customers is crucial. Utilize features like donation tracking widgets and customizable messages to transparently share the impact of your donations.
This not only builds trust but also encourages customer participation in your charitable initiatives.
Enhancing Social Proof
Social proof is a powerful tool in eCommerce. By showcasing your charitable efforts and the difference they make, you enhance your brand's reputation.
This not only attracts more customers to your cause but also creates a community of conscious consumers around your brand.
Automating and Simplifying Donations
Automation in donation processing is a key feature of Shopify charity apps. It reduces administrative workload and ensures a smooth donation experience for both you and your customers.
Look for apps that offer automated payouts, customer donation options at checkout, and support for multiple causes to maximize the efficiency and reach of your charitable efforts.
Conclusion: Top 11 Shopify Charity Donation Apps
By using one of the Shopify charity donation apps above, you can improve your CSR and the perception of your brand. At the same time, it can be seen as a sign of trust with your brand and can result in more sales and higher order values. So, which app will you install?
FAQs
What kind of support do Shopify charity donation app providers offer?

Most Shopify charity donation app providers offer customer support, including setup assistance and troubleshooting. They ensure smooth operation and integration with your Shopify store.

How are donations processed and tracked in Shopify charity donation apps?

Donations are processed securely through the app and are often tracked in real-time. Store owners can access detailed reports on donations made through their store.

How do I choose the right charity for my Shopify store?

Choosing the right charity involves aligning with causes that resonate with your brand values and customer base. Research and select charities that reflect your brand's mission and ethos.
Avi Klein
Vast experience in the online world. Shopify Expert, SEO expert, Web developer and consultant to several online companies. Read more about
our approach
to reviewing themes and apps.