The 7 Best Shopify eCommerce Statistics
Last modified: May 13, 2023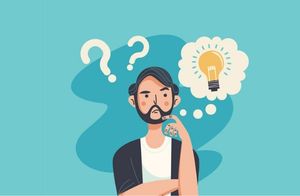 Shopify is one of the biggest eCommerce platforms online. However, do you know much about the platform? Do you know how it contributes to the eCommerce market, economy, environment, and more? In this article, we will look at the best Shopify eCommerce statistics that are available.
Recommended: 10 Best Shopify Boost Sales Apps – [2023]
#
Name
Image

Get a Free Custom Shopify Store
1

Unlimited Smart UpSell Offers

2

Sales Pop ‑ Boost Sales

3

SALES ROCKET ‑ 40+ APPS in One

4

Sales Notification | Sales Pop

5

Vitals: 40+ Marketing Apps

6

Stream Pop Up & Boost Sales

7

Sales Pop Master ‑ Countdown

8

Ultimate Sales Boost

9

Sumo: Boost Conversion & Sales

10

SMS & Web Push ‑ Pushnami

Show More
Why is the Shopify eCommerce Platform the Best?
There are many reasons why Shopify is one of the best platforms to run an eCommerce website. For instance, there is simplified pricing, and everything can be kept within the Shopify environment, including themes and apps. Therefore, it is easier for people to manage.
Website development is also easier. Not just for those who've never run a website before but also for those who are developers. Therefore, many brands can earn lots of money on Shopify that they wouldn't be able to do when using other platforms.
Shopify also has one of the best uptimes. This is because they have an infrastructure designed to defeat DDoS attacks and more. Therefore, there is the potential for shops to never be down.
But it isn't just about the infrastructure. Shopify has lots of features that help eCommerce. To find the true value of Shopify, you've got to look at the statistics of the platform. In this article, we will look at the best statistics for Shopify and see how that can affect your performance.
1. Shopify Started in 2006
In 2006 Shopify was launched. Originally it wasn't designed how it is today. The first version of the cloud-based solution was for selling snowboarding equipment online. However, it quickly evolved and became a solution for any eCommerce project, whether for a small or large brand from any industry.
This in part demonstrates that Shopify is flexible and adjustable. The team behind the software is willing to build a system that can adapt to the needs of the customers and merchants. This is also seen with how they've released a new operating system known as Shopify 2.0.
Shopify is well known to be more about mobile visitors. And this can be seen in their themes that are mobile-centric. This has meant that websites hosted on Shopify can be performing better on Google and other search engines when it comes to mobile users. It also means that many themes have fast loading times.
However, Shopify has now grown to offer many new features that can help merchants to run an eCommerce website. For instance, they've added payment gateways, POS systems, email, international selling tools, tax calculation tools, and shipping solutions.
There are also new ways that Shopify allows merchants to sell their products. For instance, there are a lot of sales channels that Shopify now connects to, including Facebook, Instagram, eBay, Amazon, and TikTok. There is also a 'Buy Button' that can be added to any website and allow merchants to sell products/services through the Shopify Payments system for a lower cost.
2. Shopify Stores have Earned $543 billion 16 Years
In the 16 years that Shopify has operated, they have generated more than $543 billion in sales. And in 2022, the amount of sales made through the platform is likely to be more than half a trillion.
As for their takings, Shopify's total revenues in the first six months of 2022 were $2.5 billion.
The number of stores using Shopify has steadily increased over time. They are now available in more than 175 countries and there are four million eCommerce sites built with Shopify. However, nearly two-thirds of the stores are based within the US.
When it comes to the value that Shopify stores are contributing to 10% of the global eCommerce platform. And this is only going to increase as more and more businesses are moving to Shopify to run their online store.
It is important to note that the growth of Shopify is because of several factors. One is that it is a simple system that can be used by anyone without experience of website building or running an eCommerce site.
There are also advantages with Shopify because they have a lot of great experience with dropshipping. Shopify has numerous apps that can help with dropshipping. These can help with sourcing, fulfillment, and other options that can help improve the customer experience and the merchant's profit margins.
3. The Average Sale on Shopify is Between $72 and $85
Depending on the source, the average sale on each order on Shopify is between $72 and $85. According to some research, if a store is earning $226 in a sale per customer, then they are performing in the top 10% of all Shopify stores. Therefore, it is clear that Shopify is often used by brands that make small-value sales.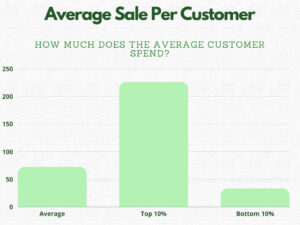 That isn't to say that large ticket items cannot be sold. It might be just that a lot of businesses that use Shopify are those that are selling small-ticket items like clothing, etc. Or there could be several brands that are selling low-ticket items that are bringing down this value.
It is important, however, that brands consider how they are going to increase the average cart value on their website. There are several ways to do this. The first thing to do is to add an upsell or cross-sell process to the website. This should be done on the cart page and the product page.
There are also quantity break pricing systems where the more money spent on the website will increase the discount that is spent.
There is finally the option for the seller to create FOMO or urgency options. That is when you create a sense that if the customer doesn't order a product at that moment, then the customer will lose out. This can help as 60% of Millennials will purchase because they've seen FOMO offers.
Of course, it is important to note that those stores earning less than $33 per order will be in the bottom 10% of performing stores on Shopify.
4. The Average Store Has High Retention
Shopify stores have a high retention rate. About 50% of Shopify stores will see at least one customer buy at least twice from their store. And those returning customers make up 14% of buyers. The average customer retention rate across retail is 63%. This is pretty low as there are certain industries, like professional services, where retention rates are 84%.
There is no definitive answer as to how much the retention is on Shopify. However, Shopify has noticed that improving retention in any store by just 5% can improve a store's profitability by 25%. Therefore, it's important to note that numerous retention apps are there to help brands succeed.
Using one or two of these apps can help brands not just earn more profit but to cut costs. The acquisition cost for a new customer is far higher than the acquisition cost of an existing or past customer.
Retention can be done over several different platforms, including email marketing, push marketing, social media, and more.
5. Email Marketing Has the Best Conversion Rate at 4.29%
Those customers clicking through from an email marketing campaign have one of the best conversion rates. According to statistics, 4.29% of customers who have received an email will make a purchase. Therefore, brands can get an order for every 25 customers that they have on a mailing list.
The next best conversation platform is the traffic directed by a search which has a 3.04% conversion rate. Search requires you to have a good SEO footprint which will require lots of work, and often doesn't happen until after at least six months of your domain being active. There are lots of SEO apps that can help, but there are lots of ways to improve your site's SEO like optimizing images.
The next highest conversion option is direct traffic. This is where audiences enter the name of the website directly into the browser. They are therefore going 'direct' to the store. The conversion rate for this traffic is 2.93%, which is slightly below the search.
Direct traffic is problematic because it relies on word of mouth. Therefore, you need to build marketing off your website. It might be best to rely on this when you have a strong presence offline. Lots of options here such as lumpy mail, trade shows, and other options.
The final option is social media. Many small brands rely on social media to spread the news about their brand. But that doesn't mean that it is the best option. Only 1.81% of the traffic that arrives on your site from social media will convert. This selling strategy is far below the average conversion rate and is estimated to be about 2.5 and 3%.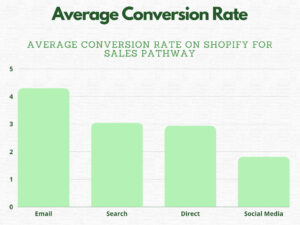 It is interesting to look at these statistics and consider the average conversion rate for a Shopify website is supposed to be 1.4%. Therefore, there must be other strategies that store owners are using to try and bring traffic to their website, but it is not being effective. If store owners are experiencing this, then they should look at some of the options that have been mentioned.
Another thing to consider is that mobile traffic makes up 79% of all traffic to a Shopify website. Mobile traffic traditionally has lower conversion rates. So the average amount of mobile traffic to websites is normally about 50%, so the amount to Shopify is 50% higher.
6. The Top Converting Websites Have 8% Conversion Rates
The top 10% of websites on Shopify have a high conversion rate of about 8%. In other words, for every 12-13 visitors to a website, there is a sale. This is very good and much better than the average eCommerce website on all platforms.
However, there are a lot of stores that aren't performing well at all. It is estimated that 90% of all eCommerce websites will fail within 120 days. There are lots of reasons why websites fail so quickly such as:
Lack of entrepreneurial ambition or skill.
Lack of funds.
Low sales for expenses.
However, there are ways that Shopify store owners can improve their chances of success. For one, they could use a dropshipping model that usually has lower costs. In addition, Shopify store owners should look at their current expenses and ensure that they have at least six months' worth of living costs saved to ensure they aren't under too much pressure.
The good news is that a more than-average Shopify website is more likely to succeed. About 20% of Shopify websites achieve a conversion rate above 3.2%, which is above the average eCommerce website conversion rate and is more than another to sustain them.
However, the bottom 20% of Shopify stores have a conversion rate of just 0.4%.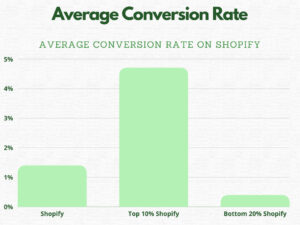 7. The Best Products to Sell on Shopify Include Books, CDs, and Belt Buckles
Whether it is because of the level of profit that can be achieved from sales of the items, the lack of competition, or something else there are profitable products that are better suited for Shopify stores. Some of the products that are most suited for the platform include:
Print Books/eBooks
Vinyl LPs and CDs
Belt buckles
False eyelash accessories
Household cleaning supplies and Circuit boards and components.
It is interesting to note that there are very few print-on-demand products (apart from books) on the list. However, some of these elements could be sold via dropshipping.
Pet products and toys are another popular set of products.
Final Word: The 7 Best Shopify eCommerce Statistics
Above are some of the best Shopify eCommerce statistics you need to ensure that you make the most of your business. Without these statistics, you might fail like 90% of the other eCommerce businesses. Only about 10% will survive with many failing within the first 120 days. Don't be those that fail and plan.
FAQs
Which acquisition platform is best for eCommerce?

Email marketing is one of the best converting acquisition platforms for Shopify and other eCommerce platforms. About 4.29% of the traffic generated by email will convert. This is nearly 50% higher than the average conversion rate of most eCommerce stores.

What is the average order on Shopify?

The average order value on a Shopify website is somewhere between $70 and $80 depending on the value of the goods on your website. The average profit margin is about 10%, so each order is generating between $7 and $8 in profit.

What is the average profit margin for Shopify eCommerce stores?

The average profit margin for Shopify stores is 10%. Stores that are selling products at a 5% profit margin will have a low level of profit and those that have a profit margin of 20% will have a high value.

What are the best-selling products on Shopify eCommerce?

There are lots of products that sell well on Shopify. Fashion and health/beauty products are some of the most sold products on the platform. However, because of the competition and low-profit margins, these aren't the best products to invest in at the moment.

Which product is the best to invest in at the moment?

Numerous products have the potential to be big sellers on Shopify. However, if you're looking to make the most money from the platform, you need to ensure that you have good knowledge about the product you're selling and a passion for the niche.

Can you sell anything on Shopify?

No, you cannot sell anything on Shopify. There is a list of rules and regulations that determine what you can and cannot sell in your store. These are regularly updated, so be sure that you check them before you start to open your store.

How long does it take to get the first sale on Shopify?

The average store on Shopify can sell its first product within hours of opening. However, numerous stores don't make a single sale until they've been operating for a year or more. It depends on a lot of factors including the product and marketing.

Are Shopify stores good for customer retention?

Yes, Shopify eCommerce websites are excellent for customer retention. And customer retention helps businesses to improve their profitability because returning customers are cheaper to convert and will spend more with a store.

Why are so many visitors to Shopify stores from mobile devices?

Nearly three-quarters of Shopify store traffic is from mobile devices. This is because Shopify stores are designed for mobile devices, so they tend to rank well for searches that are conducted on mobile devices, including cell phones and tablets.

What is the biggest store using Shopify?

The biggest brand that is using Shopify at the moment is Tesla. However, they are not the only brand using the platform, though many of them are using Shopify Plus, which is an Enterprise level option for those who want to benefit from the Shopify infrastructure.
Avi Klein
Vast experience in the online world. Shopify Expert, SEO expert, Web developer and consultant to several online companies. Read more about
our approach
to reviewing themes and apps.