The 11 Best Shopify Sales Statistics
Last modified: March 19, 2023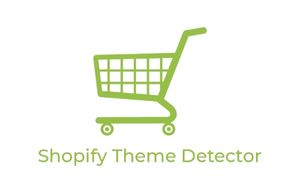 Shopify is one of the most used platforms for running an eCommerce platform. The platform is used by some of the largest brands in the world including Nestle, the Beckhams and others. However, not many people realise the potential and pitfalls of Shopify sales. Therefore, in this article, we talk about the most interesting Shopify sales statistics.
Recommended: 16 Best Converting Shopify Themes [Sep, 2023]
#
Name
Image

Get a Free Custom Shopify Store
1

BoosterTheme.com

2

Debutify

3

Symmetry

4

Palo Alto

5

Korando

6

Atlantic

7

Mavon

8

Grid Theme

9

Everything

10

Retailer Multipurpose Fastest Converting Shopify Themes

11

Luce

12

Polaris

13

Pop

14

Plain

15

Shoptimized™ - Highest Converting Shopify Theme

16

Jumpstart

Show More
Why are Shopify Sales Statistics Vital for Success?
There are numerous reasons why Shopify sales statistics are vital for your own success. For one, it helps you make crucial business decisions. These decisions can be based on the mistakes and successes that others around the world have made and you can avoid or replicate them to ensure you make the most of your opportunities.
Another factor is that if you know what the averages are within an industry, you have benchmarks that allow you to compare your brand's success to that of others. If you know whether you are performing better or worse than others, you can determine where to invest your time/money. For instance, if you know that you've got more sales on email marketing than average, but less on search, then you need to spend time and money on your SEO.
Another factor is that you might want to impress people you're talking with about your knowledge of Shopify. In this article, we provide some of the best Shopify sales statistics with some commentary on what that means and how you can improve your own performance.
1. The Average Conversion Rate is 1.4%
The average conversion rate for Shopify stores is about 1.4%. This is relatively low when compared to the rest of the eCommerce industry which has an average conversion of between 2.5% and 3%. This isn't surprising as about 90% of eCommerce businesses will fail, mostly because they aren't going to get enough sales at the right value to make their business viable.
To make a business more viable, you need to have a conversion rate of about 3% and bring in enough traffic that you can make several sales per day. However, what that means for you might be different depending on your location and living standard needs.
However, it is more than possible to have high conversion rates on Shopify. The best 10% of Shopify stores have an average conversion of 4.7% (50% above the average) and the highest converting store achieves 8% conversion rate.
And more than one in five stores on the platform will achieve a conversion rate of 3.2% or more. This means that they are achieving the rate needed for a successful store, they just need to find ways to improve their traffic.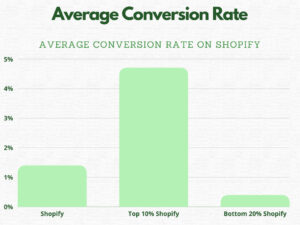 However, the bottom performing stores (bottom 20%) tend to have a conversion rate of 0.4%. This is really low and is why many stores tend to shut down. There can be several reasons why stores have these low conversion rates and this will be explored throughout this article.
2. The Average Conversion Rate on Mobile Devices is 1.2%
Mobile conversion rates are really low, but they tend to be when it comes to mobile devices and most eCommerce websites. On Shopify, the average conversion rate is just 1.2%. But the average conversion rate for other eCommerce stores when it comes to mobile traffic is just 1%. Therefore, Shopify does perform better here.
And this can be the bonus of using Shopify and when you consider that Shopify stores have three times as much traffic from mobile devices as they do from desktop devices. Mobile devices include tablets and mobile phones.
It is important to also note that the best performing (20%) Shopify stores can have conversion rates of between 2.7% and 3.9%. Therefore, some of these stores are getting enough conversions on their mobile traffic to make them a successful business.
There are ways that you can improve this. For one, you could use a mobile app. These are ways that you can improve conversions and add new marketing options for your brand. At the same time, you can improve your website's speed. Speed is vital for success with every second it takes to load your website losing about 7% of your revenue.
3. Shopify Plus Merchants See Huge Growth
Shopify Plus users see significant growth from their investment. In 2019, those stores that were earning more than $1 million on the platform in sales saw a 126% year-on-year growth. It is not known exactly how much other merchants on Shopify earned in terms of growth, however, there have been lots of reports of them earning more every year.
Shopify Plus is an enterprise-level application. Using Shopify Plus can be very expensive and therefore you should only really consider using Shopify Plus if you are going to generate a revenue of more than $1 million a year.
4. Every Shopify Store Earned $319 Billion Worldwide
It is interesting to note that the total sales that Shopify businesses have generated have reached $319 billion. This means that it is generating nearly 1 in 5 dollars of eCommerce revenue. Most of this money is made by US based eCommerce websites. However, those that are in the UK and Australia also earn a lot of revenue.
Surprisingly, Shopify is not going to work in China very well. There are several reasons for this. For one, there are lots of Chinese suppliers and merchants that use their own platforms. In addition, getting listed on Chinese search engines requires you to have a website that is written in Mandarin. And to get ranked high on the search engines in China you need to buy the space, China has a lot of ranking based on how much you advertise.
5. 79% of Shopify Traffic Come from Mobile Devices
Briefly mentioned earlier, the majority of traffic (79%) of all traffic to Shopify stores comes from mobile devices. The average for other stores is around 50%, which is why so many other stores might perform better on their conversion. Most website browsers on devices aren't looking to make a purchase. Normally they are doing research, comparing prices or just wasting time.
That makes it much more challenging for store owners to make their conversions go high. However, the mobile commerce market is growing. In 2021, mobile sales accounted for 72.9% of all eCommerce sales and raised $4.47 billion in the US. And nearly two-thirds of all consumers will make at least one purchase a year via their phone.
Therefore, you can make a decent salary from mobile traffic. But getting that can be very challenging. Improving speed and the checkout experience for mobile users is going to be very important.
6. 75,500 Stores Sell Clothing
One of the most popular stores on Shopify is clothing. It is the number one market for Shopify stores and they make a lot of money too. The next biggest seller on Shopify is the home and garden niche which has 33,800 shops on the platform.
In the UK, 27.5% of all Shopify stores sell clothing and 14.9% sell home and garden products with 11.5% selling beauty or fitness products. There are also other categories that sell well on the platform including food and drink, people and society, sports, arts and entertainment.
7. Email Marketing is the Best Conversion Route
When it comes to selling on Shopify there are several routes that merchants can take. These include email, search, direct and social. Of these, email marketing has the best conversion rate with a conversion rate of 4.29%. This is far higher than the average conversion rate on Shopify which is 1.4%. Therefore, the stores that are using email marketing are probably the ones that are surviving.
The next top-performing pathway for selling is search, which has a conversion rate of 3.04%. This is really good compared to the average. However, there are problems with search. About 90% of all published content on the internet will never have traffic from search engines. Therefore, you will need to generate better pages with improved SEO.
However, that is a long process that takes a lot of effort and cost.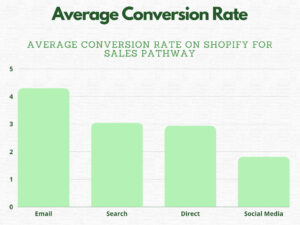 The next best performing traffic generator is direct traffic. This is when you have traffic that enters the address into the browser. This has a conversion rate of 2.93%. This is pretty good and there is little that can help you grow your traffic from this option apart from general brand recognition campaigns.
Finally, social media has a conversion rate of 1.81%. This rate is really low. And this does explain several why several brands might suffer from low sales when so many brands focus efforts on social media. The problem is that advertising on social media is very expensive and it can also be rather fruitless.
Therefore, focus more of your efforts on email marketing and SEO and your website will sell more.
8. The Best Sellers on Shopify Earn Annual Revenues of Between $7 and $11 billion
The top brands on Shopify earn a lot of money. They can year revenues every year of between $7 and $11 billion which is a significant amount. And that means that Shopify makes a lot of money from them from Shopify Payments and transaction fees. These are brands that are using Shopify
9. In 2019, Shopify Stores Saw Double the Average Growth
The 2019 eCommerce market exploded and those brands using Shopify saw their sales increase by 50% over the year. This made the platform one of the most successful sales because stores on other platforms only saw a growth rate of 21%.
Therefore, Shopify stores saw double the average growth during 2019. This was before the pandemic, when there was a bigger growth in eCommerce because many physical stores were closed and people were isolating themselves at home and protecting their health.
10. Half of Shopify Stores See Repeat Customers
Repeat customers are very important. They are easier to convert, cost less to convert and will often spend more money at the checkout. However, not many brands experience repeat custom very often. But on Shopify, half of brands have the same loyal customers and see repeat custom.
According to research, 14% of buyers are repeat customers and 62 million buyers are purchasing from the same stores at least twice. This is very replicable. There are apps that can help you with your website's retention through loyalty schemes, push notifications, email marketing and more.
Therefore, you can improve your longevity with ease.
And on average, a customer for a Shopify website is coming back and purchasing from the same store about 3.8 times a year. This is relatively comparable to the average for all eCommerce stores.
11. The Average Revenue Per Shopify Customer
In 2020, the average sale per customer was $72. This was particularly low. However, there are some good news items. Those in the top 10 were earning about $226 per customer and those in the bottom 10% of brands was earning less than $33 per customer.
The top 20% of stores are earning more than $149 per customer with the bottom 20% of stores are earning less than $44 per customer.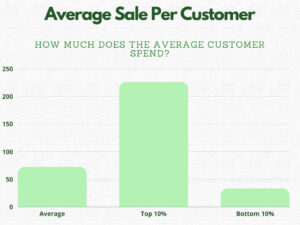 One of the problems is that this that these figures are far below the average of what you can expect on other platforms. In research conducted in 2022, the average revenue per customer in the US was $111. Therefore, Shopify stores are earning 35% lower on the average transaction.
There are several ways that you can improve this. For one, you could use tactics like FOMO, quantity breaks, upselling and cross-selling. This can be a good way to earn more money and it can also help you to understand more about your customers.
Final Word: The 11+ Best Shopify Sales Statistics
There are lots of Shopify sales statistics that you can use to help you improve the direction you want to take your store in. These statistics are very important for numerous reasons and can be used in many different ways. How will you use them? Let us know in the comments below.
FAQs
What is the average sale on Shopify?

The average sale on Shopify is about $72 per customer. This is a relatively low amount with other platforms offering eCommerce stores about $111. Therefore, you need to use other ways to improve your average transaction value.

What is the average repeat purchase ratio?

The average customer for a Shopify website will make a purchase from the same website about 3.8 times a year. About 50% of brands will realise that they have repeat customers, which is a great ratio for brands.

What device gets the most sales for Shopify stores?

Mobile traffic generates the most sales for Shopify store owners. However, there are three times as much traffic from mobile users as there are desktop users. Therefore, mobile traffic is bound to account for more sales.

What is the best-selling pathway on Shopify?

Email marketing has the best conversion rate on Shopify with more than 4% of traffic generated by email marketing converting. In comparison to the general market, this is really good as 2% is considered favourable.

What niches sell best on Shopify?

Clothing and home products are the best sellers on Shopify. These are also products that can be dropshipped or have print-on-demand options. Therefore, there are good reasons why this platform performs well with these goods.

What is the best way to make more sales on Shopify?

There are lots of ways to increase sales on Shopify. However, using email marketing, better SEO, upselling and push notifications can help you make more money. These might require you to invest in more apps that can help access these functions.

What brands make great sales on Shopify?

There are numerous brands that do well on Shopify. One of these is Tesla. However, there are also brands like Nestle and Pepsi that are known to use Shopify Plus. Shopify Plus is an Enterprise level application and can only be used by certain brands.

What brands can use Shopify Plus?

To use Shopify Plus, you must have sales that are in excess of $1 million per year. When you have Shopify Plus you have your own dedicated account manager and access to lots of apps and themes that can help you run a better store.
Avi Klein
Vast experience in the online world. SEO expert, Web developer and consultant to several online companies.
Read more...
. Read more about
our approach
to reviewing themes and plugins.