Can I Dropship CBD on Shopify in [2023]?
Last modified: March 19, 2023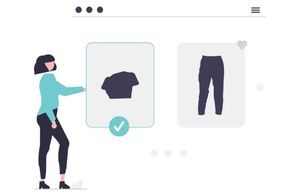 If you're wondering, 'Can I Dropship CBD on Shopify?' then you should consider the following points before you start. Dropshipping CBD on Shopify is a great way to earn money if you're interested in CBD dropshipping business models.
Can you Dropship CBD on Shopify?
Yes, you're able to dropship CBD on Shopify. However, it isn't as easy as dropshipping other products like leggings, t-shirts, clocks, mouse mats or other objects. At the same time, it isn't as challenging as it would be to create your CBD products and then ship them out.
Dropshipping CBD on Shopify is made more complicated because there are no apps to help you directly. Instead, you would need to take the products manually and then order them from your supplier. While this can be challenging, numerous CBD suppliers have processes that can help you. They often also have ways that they can collect your orders through spreadsheets.
What are the Costs?
There are numerous costs when it comes to starting a Shopify store. The first thing that you need to do is have a plan with Shopify. These start from just under $30 per month. Then you will also need to buy a theme. There are lots of themes available and the costs vary too.
There are several free themes that you can use and there are premium ones that can cost over $100. There are also some themes like Shoptimized and Booster that can cost you a monthly subscription or a high amount upfront.
You will also have the costs of the apps that you need. However, there are lots of free apps that you can use on your website to help you promote it. This can include some SEO apps, email marketing and more.
Costs for the products are less predictable, but costs for supplying the products will only be incurred when you have an order on your store. This makes it easier for you. No stock or inventory means that starting a business on Shopify is so much easier and more affordable than a traditional store.
Technically speaking, there is also no need for you to have premises. You can work from your dining room table, the lounge or even while traveling.
Considerations
One of the top considerations that there are is the legal aspects of selling CBD on Shopify. In some states, there might be laws that make it harder to sell or ship to that location. Therefore, you should check with a lawyer on your business plans and what they would recommend.
Some apps can prevent certain audiences from accessing your website. For instance, geo-location apps and more.
Final Word: Can I Dropship CBD on Shopify
Can I dropship CBD on Shopify? Yes, you can, but there are certain rules, costs and disadvantages that you might need to consider. However, if you've got a good system, it can be a lucrative business for you.
Avi Klein
Vast experience in the online world. SEO expert, Web developer and consultant to several online companies.
Read more...
. Read more about
our approach
to reviewing themes and plugins.