The 12 Best Shopify Subscription Apps – [2023]
Last modified: March 19, 2023
One of the most successful online business models has been the subscription model. They offer a regular income for services or products on your website. There are many different products and services that you can offer on this model, including content, products and services. To help with your business on the platform, you can use one of the many Shopify subscription apps.
What do Shopify Subscription Apps Offer your Business?
There are several ways that subscription apps can help your business to grow. One is by ensuring that offers for customers are maintained. This is especially important if you have a content-based subscription where customers have access to special areas. However, it can also be a good way to get regular order reminders through the system. Some apps can send orders at the same time every month so you don't miss out.
At the same time, the Shopify subscription apps can ensure that you have the payments coming in from your customers so you're not chasing them. Regular payments are one of the top advantages of the subscription model as it allows you to predict costs and income more accurately for a time period.
Shopify subscription apps should also make it easier for customers to manage their monthly orders. They might be able to add products, remove products or cancel without speaking to you. This can be a huge time saver.
So, what are the best Shopify subscription apps for your store? Here are ten of the best for you to consider.
Filter between free and paid
Seal Subscriptions

This app allows you to start your subscription business with ease and you can enjoy recurring orders and increase your revenue with ease. Configuring the subscription has never been easier. All you need to do is install the app, create your first subscription rule and then start generating orders for the subscription. The app will add the subscription widget to the 'Add to Cart' button on your product page.
When the customer clicks on the button they'll be signed up to regular reminders about the next payment due. They will be sent an automatic email reminder on the date that will direct them to the checkout to pay for the order. The customer can then have the freedom to pay for the order whenever they want. They'll still use the Shopify checkout process, which offers you lots of ways to pay.
You can reward customers by offering them a discount on the initial order. And you can allow mixed subscriptions in the same cart or multiple subscriptions within the same cart that have different intervals. For instance, craft set 1 every two weeks but craft set 2 every four weeks.
Seal Subscriptions Highlights:
Customers get reminders of when it is time to pay for their subscription.
Customers can cancel their subscription within an email.
No need for customers to register with your website.
Can offer customers discounts when they first subscribe.
Bold Subscriptions

Bold Subscriptions gives you the flexibility to create a subscription product on your Shopify store that is as simple or complex as you would like. You can grow your business, therefore, with recurring revenue and customer loyalty that can help improve profits with lower customer acquisition costs and higher average order values.
The robust APIs and webhooks with this app are brilliant for those with developer experience and new to website building alike. You can create your own custom subscription rules and setup that allow you to showcase your branding perfectly. You can also have a unique onboarding process and branded customer portal for customers to manage their subscriptions with your website.
The possibilities are completely limitless with Bold Subscriptions. You can offer to subscribe and save offers, so customers can save more if they subscribe to your service. It can also help with improving conversions on your website and improve retention of customers, which is where a lot of cost savings will be.
The app can also benefit you in other ways. You can set different subscription intervals like weekly, monthly, annual and more. Or you could let your customer select their own frequency. Customers can also edit, pause and skip upcoming orders if they want. They might also be able to swap products, change payment information or adjust the delivery dates.
The app also allows for mixed cart checkout with one-time and recurring products in the same cart being processed at the same time.
Bold Subscriptions is also good at customer retention. You can reduce churn by having cancellation flows that enhance interaction and offer incentives to stay subscribed. Or you can offer alternatives to canceling like pausing orders or giving discounts. All email notifications sent to the customer can be customized as well, to match your branding and having the information you want on the notifications.
Bold Subscriptions Highlights:
Have mixed carts where subscriptions and one-off purchases can be paid for in one go.
Automatic payments of recurring subscriptions.
Customer power, they can change orders, skip subscriptions, or change payment details/delivery dates.
A powerful app that offers you better subscription services.
PayWhirl Recurring Payments

PayWhirl is a powerful and free app that allows you to sell subscriptions and offer customers payment plans and more. You can create, manage and sell subscriptions with ease and other types of recurring payment plans through the native Shopify checkout. Once a subscription has been set up the customer can then login to their account on your website and manage many aspects of their recurring order and customer details.
Customers can use any major credit and debit cards for their transactions and these are saved to your website. And on a weekly, monthly or annual basis, the payments are taken automatically, leaving you with little to do other than servicing your customers with good services and products.
The app works with any theme, integrating perfectly so that it matches your site's theme design. There is also complete language control and your site is built for mobile compatibility. The app has also been built so they work with Shopify's built-in reports. And you can enable/disable customer features.
PayWhirl Recurring Payments Highlights:
Customers can have payment plans that allow them to pay for orders over a longer period.
Have recurring payments for subscriptions.
Your customers can manage their regular orders with ease.
Lots of customization options to make your subscriptions seamlessly integrate into your brand.
Native Subscriptions
Native Subscriptions is a perfect app for you to create subscriptions and recurring billing options on you Shopify store. This app can help you double your monthly sales with the long list of features and excellent functionality. The app includes lots of features including requesting a reason for cancellation, prepaid subscriptions, Klaviyo integration, and importing from other apps.
The app allows you to provide a good discount for initial subscription orders. Customers can set their own frequency, including daily, weekly, monthly and yearly subscriptions. And if for any reason the customer would like to pause or skip their subscription, they can with a click of button.
To keep you building your website's subscription sales, there are great analytics, a perfect dashboard for subscribers and you and safe payment options. There are also lots of customization options that allow you to integrate this app with your business model and website.
Native Subscriptions Highlights:
Customizable app that can integrate into your world.
Customers can change details about their account or orders with ease.
Flexible app that works with Shopify 2.0 themes.
Easy integration with your Shopify website.
Recurring Order & Subscription
This app allows you to establish weekly or monthly subscriptions, subscription boxes and other products with recurring billing with ease. The app makes the payments seamless and user friendly and can help to reduce the number of refunds that are made on your orders.
On the product page, customers will see a subscription option next to the add to cart button. You can specify which products can be subscribed to and which cannot.
The app is perfect for digital subscriptions, recurring donations, magazine subscriptions, software subscriptions, coffee subscriptions and more. When it comes to a subscription period, the app generates automatic invoices and this produces a friendly way to retrieve payment. Customers can use any payment method. The app doesn't charge any fees for recurring items.
Customers can also skip log in and registration.
Recurring Order & Subscription Highlights:
Recurring billing that is simple to apply and use.
Customers don't need to log in and can use any payment method they would like to.
No fees are charged for recurring items.
Establish weekly/monthly subscriptions for customers.
Recurpay: Subscriptions App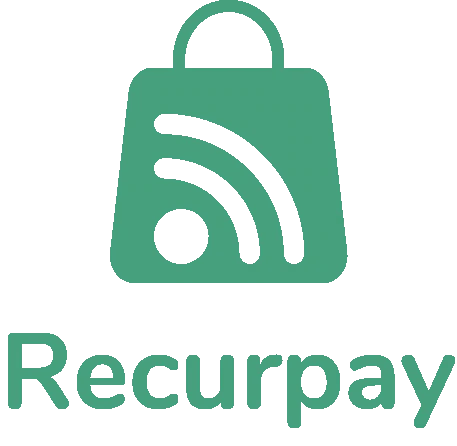 Recurpay is trusted by hundreds of merchants from 39+ countries for subscriptions. It enables you to build a sustainable business by increasing your Customer Lifetime Value (LTV). Recurpay has been designed to offer you all the tools to turn your customers into subscribers in a super seamless manner. While everyone else is chasing customer acquisition, the sensible businesses will focus on retention to survive in the long run.
Speaking of sustainability, the pricing here is designed to stay the same. They only charge you when they succeed in their task at hand. The app is completely Free to use until you make USD $100 a month from subscriptions.
Recurpay Highlights:
Notify your customers via Whatsapp
Let your customers edit their subscription and even add One-Time products with a click.
Put Subscription Button on your blogs or affiliate sites and create orders on Shopify automatically
Let your customers cancel, pause, skip, reschedule and edit subscriptions on their own
Add multiple products in a single plan
Request features and build along with us for future of sustainable businesses
Instant support via Live chat
No code install and integration with your Shopify store
API built structure to support complex use cases
Easy and Free migration support from any other subscriptions app
Free to start and economical to scale
Advanced analytics to help you build right strategies for better outcomes.
Supports mixed cart to let customers shop for both Recurring and One-Time products at once.
Let your customers subscribe by scanning QR codes
14 days money back guarantee on all paid plans
AAA Membership + Subscription
More than 1000 Shopify and Shopify Plus brands use AAA membership for their subscription services, making it one of the most used apps available. You can create multiple membership plans for one time or recurring payments. You can even have free subscriptions if you want. There is a custom form builder that uses a drag and drop interface to help you create elements to help you collect information from your customers with ease like information about their subscription.
From the information, you can approve or reject membership requests. You'll also be able to hide pages, blogs, buttons or collections from members based on what subscription they've bought. Or you can offer trials and discounts for membership plans or set these discounts for your favourite subscribers.
The app takes care of all membership transactions in an easy format that allows you to concentrate on building your business. All payments can be taken through Stripe and PayPal. If a customer doesn't complete the signing up process to a membership, you'll collect the information and you can follow up later on. You will also get advanced reports on subscriber actions.
Finally, if you're struggling with the software, there is a free installation service for you.
AAA Membership + Subscription Highlights:
Ultimate Upsell & Cross Sell

This is a multifunction app that allows you to make more money from those that are more likely to buy, cost less to acquire and are more likely to be brand advocates: your previous customers. The app works as a cross sell and upsell app. However, there are numerous subscription options available that can make this a good choice for those that don't want their major focus to be a recurring purchase market, but one which the service could be open to certain customers.
The app for instance allows your customers to change from a one-time purchase into a recurring purchase with just a click of a button. Or you could use the subscription app to recommend upgrades or different subscriptions that are more profitable for you within the cart. These subscription choices allow you to build a better level of profit and more sales with ease.
You can also offer discounts when the customer makes more purchases of the same item. For instance, if the customer buys three of a product, you can offer them a 10% discount for their efforts. You can also set rules for what is offered as an upsell based on what is in the cart, what URL they've been to and more.
Ultimate Upsell & Cross Sell Highlights:
Earn more revenue and generate more profits by upselling single purchases into subscriptions.
Choose what products can be applied to with ease.
Easy to use app.
Can create product bundles to help with selling more on your website.
Rebuy Personalization Engine
Rebuy Personalization Engine is a unique option that allows you to offer personalized discounts to get customers to buy regularly from you. You can send professionally branded emails that don't have to be coded with HTML, making it a great solution for all, even those who don't have any designer experience. All of this can be done automatically without your interaction, making it a great way to earn recurring purchases from customers without having to do any work.
The app not only recommends the product that they've previously bought before, but it can also make intelligent recommendations on what they can buy in the future. For instance, if they've bought a printer from you, they can recommend the ink cartridges on a monthly basis. Or they can recommend other IT equipment that can help you build a better, stronger business.
The app allows you to track performance of all the emails that you send. You can see how many product views, add to carts, open rates, click through rates, email valuation or total sales. These statistics are given to you in real-time, no need to wait for the results to see if you're performing well.
Rebuy Personalization Engine Highlights:
Recommends repurchasing to customers on a regular basis.
Live reports to see how your emails are performing.
Easy to design emails that can match your branding.
Easy to use app with strong potential to help you sell more across your brand.
Reorderify

This app is perfect for having your sales increase through the process of repeat orders. It is an easy, fast and affordable app that allows your customers to add any previously ordered products to the cart and take that to the checkout. Once installed, the app will have a 'Reorder' button that will be added to each order row in the 'Order Listing' section of your website or 'Account Page' for the customer.
You can also add the button to the 'Order Detail Pay' or 'Thank You Page' with ease. This allows returning customers to continue to purchase your products on a regular basis without too many complications. If it is easier for them, they're more likely to do it.
Customers can also be shown a popup of an order when they click on the button and they can select which of the items they wish to repurchase or choose the entire order. Once the information has been collected, the customer is sent to the checkout page to complete the transaction.
To prevent customers from being unhappy, the app does also check your store's inventory. If a product isn't available, then the customer can't reorder it.
Reorderify Highlights:
Customers can choose to reorder a few products from an order or a whole order.
Checks that products are in stock before offering the reorder to customers.
Adds a simple button to order history page.
Easy to use app, requires no developer skills.
Elevar Subscription Analytics - Inactive

Elevar is an eCommerce analytics platform that will help you optimize your store with automatic data analysis, insight curation and forecasting. It is specifically designed to help those who sell subscriptions to take a look at their offerings and have detailed reports about how they're performing and the profit they're making.
The app allows you to match the subscription revenue that you have in your Shopify store to that you have in Google Analytics. Therefore, you can have better control over the data management and make more informed decisions that can help you grow and build upon your business. Google Analytics doesn't often collect these recurring payments.
Elevar is simple to use and has the potential to help you in many ways understand the complexities of your subscription business. It has been tested with numerous other subscription apps and it comes with support to help you overcome any technical issues you might have. However, it is a simple to use app and setup only takes one minute.
Elevar Subscription Analytics Highlights:
Set up the app in less one minute.
Synchronize your store data with Google Analytics for any recurring payments.
Have more informed decisions on your website.
Easy to use.
TORO Recurring & Subscription - Inactive

Toro is a great way that you'll be able to add subscription features to your website. The app allows your customers to subscribe to products/services on a daily, weekly, monthly or other custom time interval depending on your needs. You can provide fixed subscription services which are suitable for many different products from car rental to magazine subscriptions.
Customers will also be able to buy products as a one-off purchase, but you can encourage greater sales by applying a discount if the customer subscribes for a frequent subscription. You have control over that discount and how it is applied to your website. There are numerous rules that you can apply to your products and subscriptions. These can be set against a single product or an entire group of products.
The app doesn't require the customer to register or log in to your website. Making it far more convenient for the customer. As the website owner, you'll be able to check which products are doing well and look into the history of subscribers and more.
TORO Recurring & Subscription Highlights:
Perfect product for any kind of recurring product offering.
Can have any time interval from daily upwards.
Check the history of subscribers and what they've bought.
Easy to use and works with all Shopify themes.
Final Word: 12 Best Shopify Subscription Apps
Numerous Shopify subscription apps can help you build a successful business online. The ten above are just some of the best Shopify subscription apps for you to use. The choice of which you install is up to you. Just remember that when you cancel an app subscription, you can lose the functions and subscriptions. So don't get one without knowing that it is the right one for you. So what is going to be your pick?
Avi Klein
Vast experience in the online world. SEO expert, Web developer and consultant to several online companies.
Read more...
. Read more about
our approach
to reviewing themes and plugins.