10 Best Shopify Candle Store Themes
Last modified: June 15, 2023
#
Image
Name

Get a Free Custom Shopify Store
1

Booster

2

Broadcast

3

Story

4

Artisan

5

Woodstock - Electronics Shopify Sections Theme

6

Supply

7

Plain

8

Warehouse

9

Loft

10

Polaris

Show More
Online sales have soared in the past couple of years and there is no doubt that this trend is going to continue. There are lots of people who are looking to buy gifts and more online for their loved ones. But this has also increased the competition among brands. Therefore, if you're selling candles online, then you will want to have one of the best Shopify candle store themes available.
What are you Looking for when Searching Shopify Candle Store Themes
There are many features that make for good Shopify candle store themes. For one, as there is a lot of competition, you need to ensure that your website will rank highly on Google and other search engines. The top spot on Google can take 25-27% of the traffic from searches. However, those in the 10th position on Google page results will only have 2% of the traffic. If you're below the third spot on the rankings, then you're likely to have less than 5% of the traffic.
There are many ways that a site can be optimized for search engines. One of the most important ways is to have a website that loads fast. Speed is important for conversions as well. For every second that it takes for your website to load, you will lose about 7% of your revenue. Most websites take between 8 and 11 seconds to load. But many of the themes on this list take less than 4 seconds with some taking less than a second. That means by switching to one of these themes, some brands can double their revenue!
In addition, you want a theme that can convert much of the traffic to your site. A good conversion rate is between 3-5%. Anything below 1% is pretty low. There are many ways that you can improve conversions on your website. Some themes have ways to help with countdown timers, popups and more. Or you can view our list of ways that you can convert more of your traffic here.
Finally, you want to have a theme that can support your imagery. Customers can't smell your candles, so they need to see what they look like. Good imagery can help sell products easily.
So with this in mind, what are the best Shopify candle store themes? Here is a list of our choices.
*If you're planning on building a candle business on Shopify – you might want to try our sister site's candle business name generator
Filter between free and paid
Booster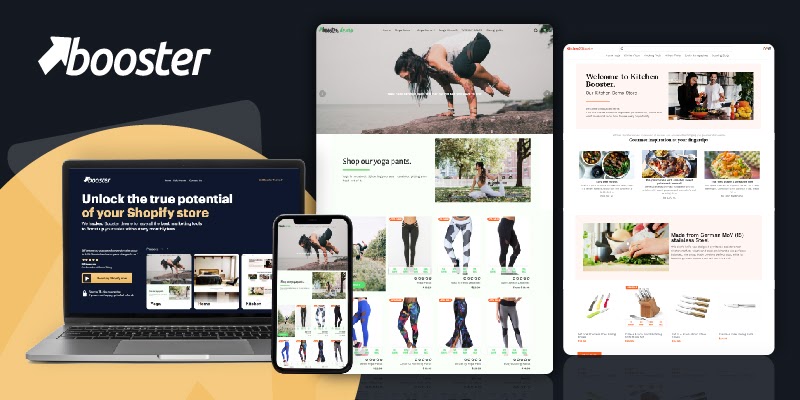 Booster is a great option for those who are looking to get a theme that can do it all for you. Booster has a complete suite of marketing tools that can offer high-functionality, fast speed and better conversions than you would expect. You can save time and coding on your website from installing all the apps on your website and the developers reckon that you can save up to $2000 a year on app subscriptions. This is really significant.
Some of the features that are included on this theme are countdown timers, social proof and popup makers. In addition, you can take your brand to the international level and generate more sales with an automatic currency converter.
The theme is also super fast, allowing you to load pages within a second if you optimize the site correctly. Therefore, this is a great option for an eCommerce business.
Booster Highlights:
This is one of the best apps for saving money on your apps, you can save $3000 on apps.
This is a fast theme that allows you to prevent customers from abandoning your store.
Great for SEO, to help you grow your traffic and improve the revenue on your store.
This is an excellent choice to allow customers to use their mobiles while viewing your website.
Broadcast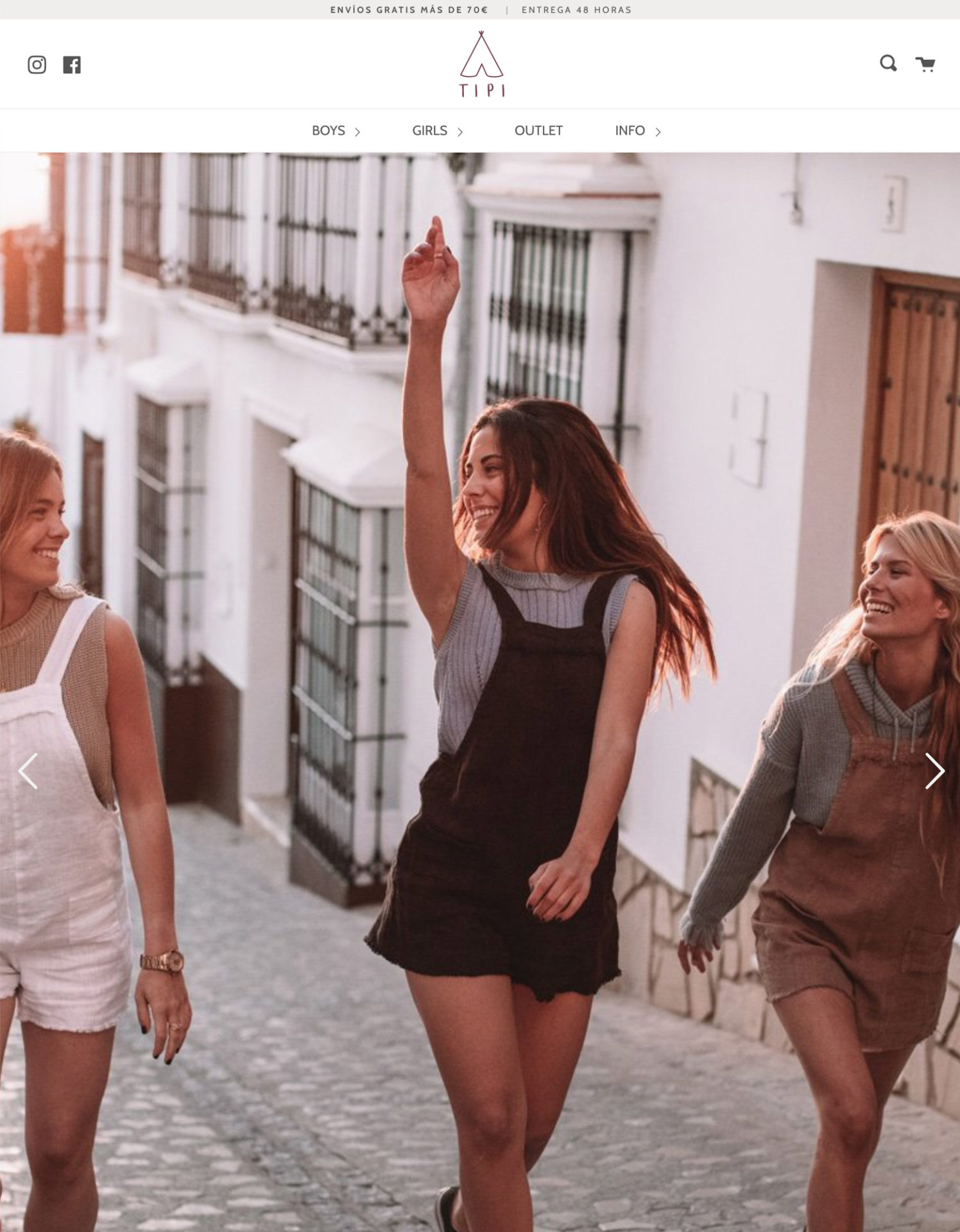 Broadcast is one of the top options when it comes to selling luxury or gift products online to a wide audience. One of the key elements of this theme is that it uses imagery to help sell products. You can connect this app to your Instagram account to the theme so you can create posts centred on your products. The feed can be displayed on your homepage for additional social integration and engagement.
You're also able to use a homepage video that can help you showcase your top products. This can be in a video all about the product or a video of your story. The video can feature as an auto-playing background video.
To help build trust on your website, there are some great features. For one there is a great customer testimonial section and then Disqus blog comments that take your site to the next level with regards to customer engagement.
There is also a quick view option that allows your customers to view the details of your product within a popup on the current store page. This speeds up the purchasing process for your customers, making it a better experience for all. You can also use the swatch system to get customers to choose their flavor or color of the candle.
Broadcast Highlights:
This theme has been optimized for search engines, allowing you to rank higher.
Allow customers to choose the variant they would like of the candle with swatches.
A fantastic customer testimonial system that can be used on your website.
Mobile friendly, allowing your website to look perfect on any device.
Story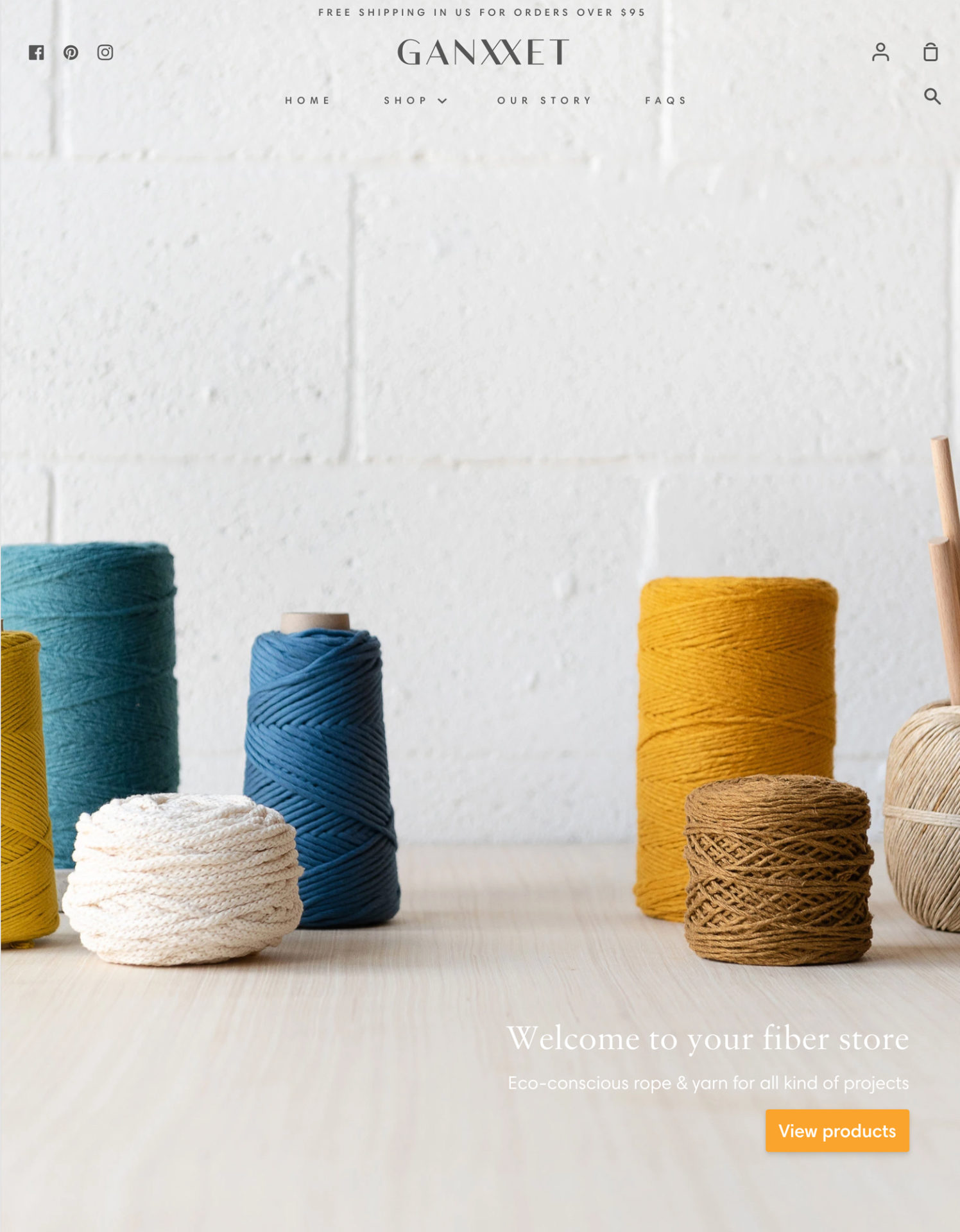 This is a powerful selling tool when it comes to personal items like candles and other luxuries. This theme taps into the common style of TV commercials where stories are told to sell products. This is a way to engage audiences and built an emotional attachment to the viewer. This theme uses the same style to help you sell your candle products. It tells not just the story of your brand, but also of the products to draw the audience in and get them to emotionally invest in you.
To help you there are customizations that allow you to build a powerful website. You can create a bespoke contact form that is perfect for your brand's need. Therefore, you can get all the information that you need for your customers directly from the custom form. And this can be used for better responses.
For your website, you can improve the experience by using collection filtering on the sidebar. This can help customers to find the specific items they would like using different criteria like color, smell, brand and more.
To help with marketing, there are lots of great options too. One of the best is the Lookbook feature that can help you display collections in an editorial fashion that is modern.
Story Highlights:
Allows you to tell the story of your brand and the products within a unique settings.
Showcase the team behind your brand with a team page.
Optimized for search engines, so you can rank highly and beat competitors.
Is completely optimized for mobile viewing.
Artisan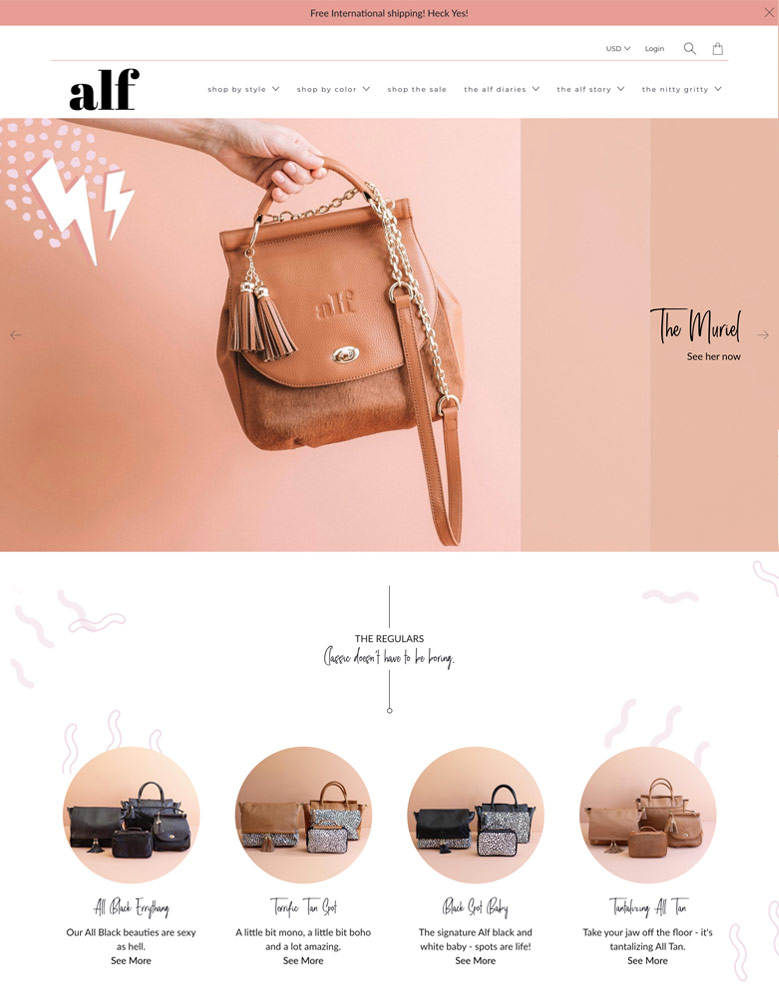 Artisan is one of the top Shopify themes for those who want to grow their their business in style. It has three modern and aesthetically pleasing styles that you can choose and customize. The theme places a lot of focus on the images of your products. It includes a masonry-style layout that is perfect for displaying all your products.
There is also integration with Instagram. This is the perfect social media platform for those selling products like candles to get noticed and find their audience online. You can also engage audiences better with likes, comments and shares.
To help you sell high-value products, you can feature one top selling product on any collection page. This attracts the attention of the audience and increases the conversions of that one product. And you're able to showcase different products side-by-side with some handy product tables that allow your customers to make proper purchasing decisions.
To help you build trust, you can use the customer testimonials section. This allows you to share comments and quotes to those who've not yet met you online. You can also use a custom form builder to get customers to contact you to ask any question they might have.
Artisan Highlights:
This is a great looking theme that allows you to choose between three styles.
Draw attention to specific products with the featured product image.
The theme is completely optimized for search engines to help you grow traffic levels.
Is fast loading for a better experience for your customers.
Woodstock - Electronics Shopify Sections Theme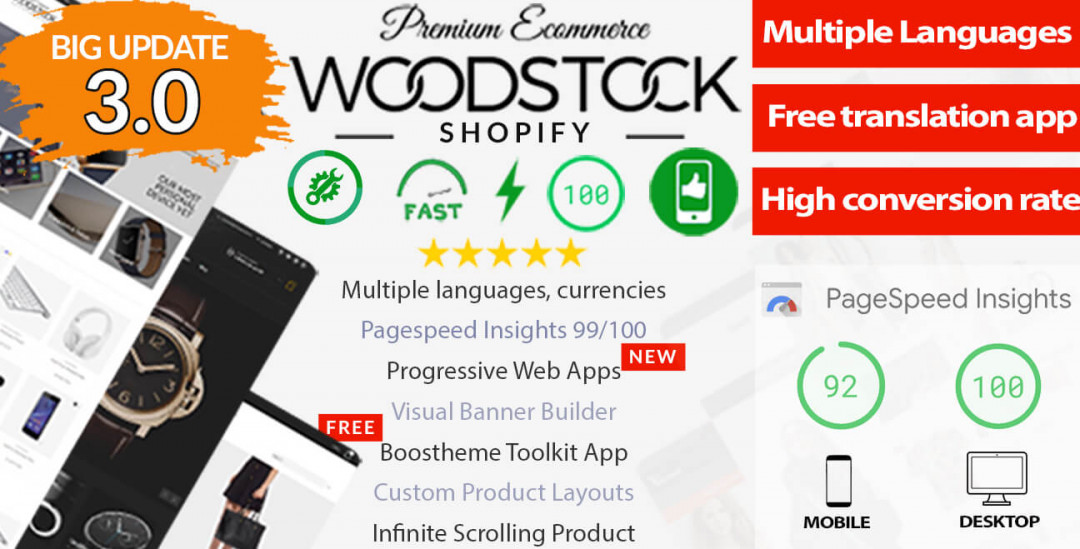 This is one of the best eCommerce templates that is available. It has been converted for use across numerous platforms include WooCommerce and Shopify. There are 12 different homepage styles that you can use on your website to get the right branding for your store. You won't be disappointed as there is going to be a style you will like. You're also able to add customizations to each of the styles to make them completely unique to your brand.
This theme is one of the fastest available. It can load within the four seconds, allowing you to retain the majority of your visitors and experience higher levels of revenues than some of your competitors. In addition, you can have better ranking on Google and other search engines.
If you're looking for a theme that has lots of other features included, this is a good option too. It has numerous inbuilt features that you can't find unless you have an app with other themes. Two examples of this are mega menus and product sliders.
Woodstock – Electronics Shopify Sections Theme Highlights:
This is a fully responsive theme that has a lot of potential to perform well on any device.
Is completely optimized for SEO, this allows you to be found on Google and other search engines.
There is lots of functionality that has been built into the theme to help you save costs on other apps.
There are lots of style options that can help you brand your website with ease.
Supply
Supply is a great free theme that was built for large catalogs, which is typical of those in the candle industry. It comes with numerous features allowing you to grow your business and therefore it is a great option for any brand trying on a budget. One feature you can benefit from is a collection filtering sidebar. Customers can filter products based on collection, brand, color, smell and price. You can also use other customizable options to change the filters.
You're also able to use the slideshow options to display the best products you have. You're also able to showcase your brand. This slider can be placed on your website's homepage with ease or any other page if you need it there.
Supply Highlights:
This is a free theme that is perfect for anyone with a limited budget.
Can showcase your products on the homepage through the excellent slideshow.
Filter products through customizable options.
Is perfectly optimized for mobile devices and search engines.
Plain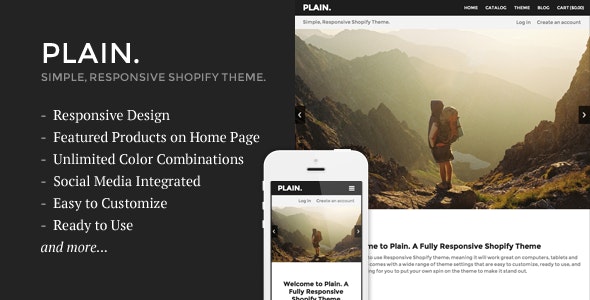 If you're looking for an aesthetically pleasing Shopify theme, then this is certainly one of the best options for you. It is a perfect theme for most niches and it will be great for displaying the information about your candle products perfectly. It is a great responsive design, allowing customers to view your website in perfect detail whether they're on a mobile or desktop. With all the available design elements, you can create a modern, sleek design perfect for your brand.
You can use the theme to upload an existing logo, or you can built one from scratch using the logo creator. The logo builder can create you a unique logo that is text based for your brand. You're also able to upload a custom favicon.
Customizations with the theme is really simple to do. You can match the background of the theme to your current branding color scheme. This can help build trust and allows you to convert more visitors. There are also options to change the design of your buy buttons. These can be tested to see what converts better on your website.
Plain Highlights:
There are options on your theme that allow you to have a better menu set for improved site navigation.
Great social media integration for better audience engagement.
Optimized for search engines to help you grow your audience and attract more customers.
There are lots of features that can help you improve your order values.
Warehouse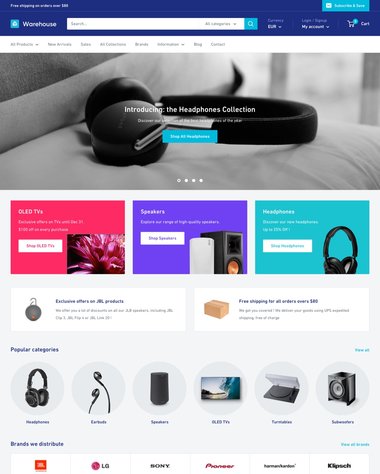 Warehouse is a great option if you have a large catalog of candles to sell. This theme is built for shops to sell lots of a varied catalog and has two main styles that you can choose. You can then customize these basic designs to get them more branded to your specific style.
To help improve the shopping experience for your customers, you can use custom promotional tiles to help promote sales, discounts and other key products on your homepage. There is also the option to help customers get to specific product page using a slideshow. To help customers on collection and shop pages, you can use the live search features to help them refine the product choices on a page. There are also options to add urgency to your website through stock level indicators.
To build trust with audiences, you can showcase trust badges prominently on your website. This is really important to many users. And there is an exit popup that can help convert visitors into subscribers when they're on your website.
Warehouse Highlights:
There is a live search functionality that can help improve your customers' shopping experience.
An exit popup function that helps to grow your email marketing list.
This is perfect for brands with large catalogs.
Is optimized for all search engines, allowing you to attract more attention to your brand.
Loft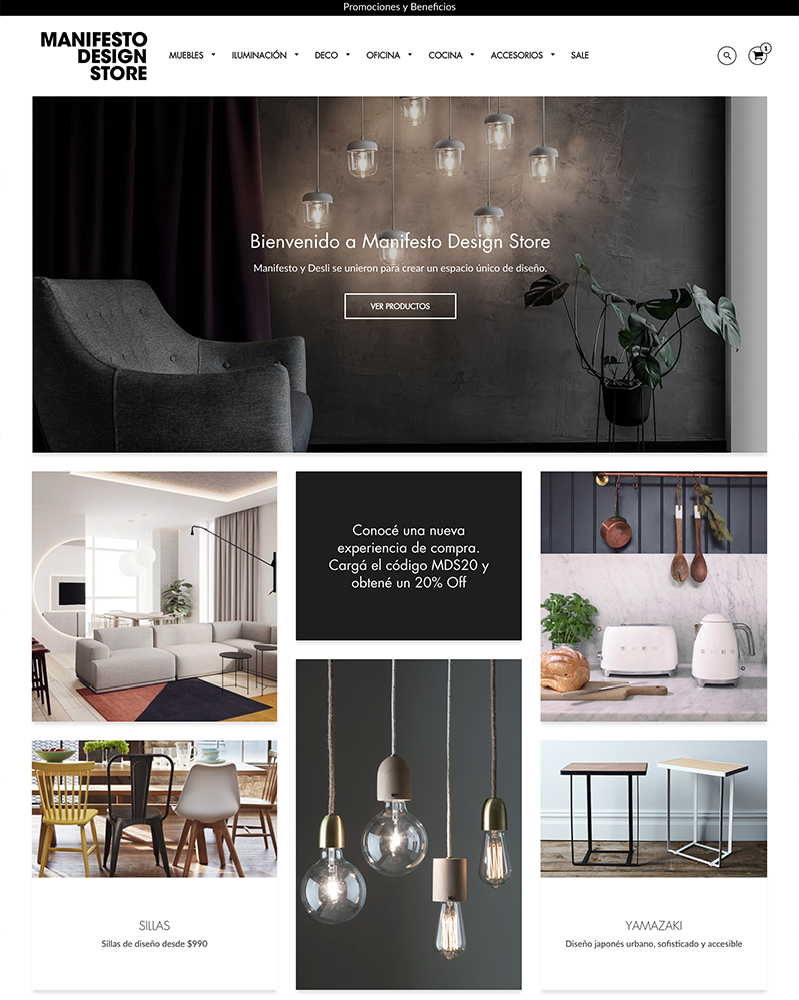 This theme is another great one for those who have large catalogs on their website. It uses the power of storytelling to sell an idea and give customers an emotional reason why they should buy from you. All stories are embedded within the product pages to ensure that customers read why your business is the best to buy from.
In addition, you're able to promote products that are for sale, or if you want to have some 'manager' choice's on your homepage. This is done through special promotional tiles. When the customer wants to look around your store they can do thanks to the multi-level menu options.
Loft Highlights:
This showcases your product's history and story in one place.
Built for high-resolution and large images that can showcase products in great detail.
Is a perfect theme for large catalogs.
Optimized for all devices and search engines for better user experiences.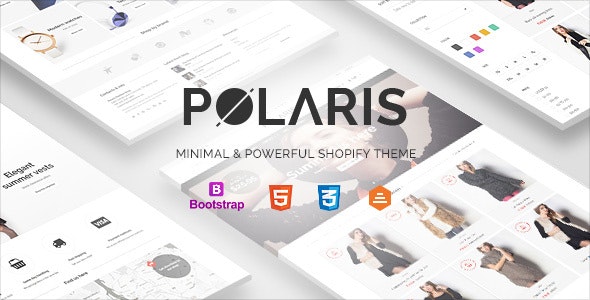 Polaris is a minimalist theme that works well with lots of brands and their niches. It is a theme that has been built to focus on the product rather than other content that might distract the audience. Therefore, you should be able to see higher levels of conversions than you would with other themes that are available for Shopify stores.
Polaris has some great features to help you sell and maximize sales. The first feature is a product filtering system that is very advanced. It can help you reduce the options that might slow down the customer's purchasing journey. If the customer takes too long to make a decision they might abandon their cart and you lose out on a sale. There are other ways that you can improve the shopping experience like through quick shop features.
You're also able to build long-term customer relations through a newsletter popup. This can turn visitors into email subscribers. You're also able to build trust with your audience through customer review features.
Polaris Highlights:
This is a powerful minimalist design that allows for your site to load quickly.
Can rank highly on Google and other search engines, allowing you to have more traffic to your store.
There are lots of great features that can improve the user's experience on your website.
Can use the Google Maps integration to showcase where you're based if you have a physical store.
Final Word: 10 Best Shopify Candle Store Themes
There are several Shopify candle store themes that you can use that can help you sell online. There are lots of choices to make and it will depend on your branding, tastes and what you want from the website to which option you choose. Look at the list above and choose the theme that is right for you.
Avi Klein
Vast experience in the online world. Shopify Expert, SEO expert, Web developer and consultant to several online companies. Read more about
our approach
to reviewing themes and apps.