11 Best Shopify Order Fulfillment Apps – [2023]
Last modified: November 17, 2022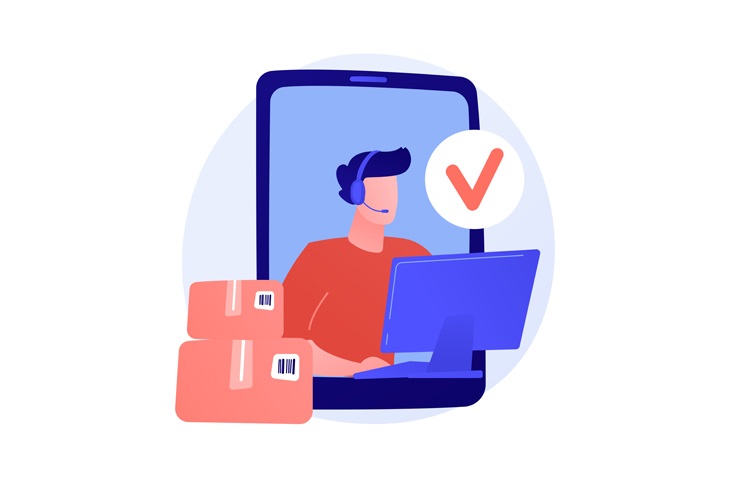 #
Image
Name

Get a Free Custom Shopify Store
1

ShipMonk | Order Fulfillment

2

SFC China Order Fulfillment

3

ShipReadyGo Order Fulfillment

4

AllSome Order Fulfillment

5

Shipping Automation by Shipway

6

Zonify ‑ Amazon Dropshipping

7

EZ Fulfill ‑ Auto Fulfillment

8

Ordersify Pick, Pack & Fulfill

9

fulfillempire

10

Easy Fulfillment

11

HyperSKU

Show More
Order fulfillment is one of the most important aspects of eCommerce. If you don't have orders leaving your warehouse or facilities, then customers aren't going to be happy. That's why you need to be using one of the best Shopify order fulfillment apps.
What do Shopify Order Fulfillment Apps do?
There are many aspects that can be managed with Shopify order fulfillment apps. The first is that you can have engagement notices to your audience managed. For instance, you can send notifications of when the order has been processed, sent out and delivered. This information can also be included within a tracking system on your website.
Order fulfillment can also include management of your website's inventory. They can add, remove and change stock counts as applicable. They can often cope with all aspects of the process including sales, returns and exchanges.
Alternatively, Shopify order fulfillment apps can be very simple and just offer you a way to arrange delivery of your products. This could be through their shipping contracts that can offer eCommerce owners a chance to benefit from discounts.
There are numerous Shopify order fulfillment apps available across the Shopify app store. Here are some of the best apps that you can use.
Filter between free and paid
ShipMonk | Order Fulfillment

This app is part of a wider support system that allows eCommerce businesses to provide a better experience to customers. There's a proactive approach to shipping and fulfillment that will help build trust and gain the loyalty of customers. Therefore, Shopify store owners can experience long term growth of their businesses and improve the revenues they generate.
The app has powerful software to help that can help keep track of shipping rates to reduce the need for customers to be over or undercharged. At the same time, when orders are being shipped, there is order tracking so the customer and the management team can see where an order is. Customers will get notifications of the status of their order.
All of this is done through direct integration. No more importing your orders into a third party system. You can simply just access all the information and perform actions from inside your Shopify dashboard. And there are lots of options for you to try with more than 30 discounted shipping options. Therefore, shop owners can also lower the costs of sending out shipments.
ShipMonk | Order Fulfillment Highlights:
Live inventory counts kept by the ShipMonk system.
Can offer you more than 30 discounted shipping rates.
Live tracking of shipping rates and orders.
Easy to use and integrates directly into the Shopify store.
SFC China Order Fulfillment

If you're sending products from China to anywhere in the world, then you need to think about how you're getting your products from there to your customers. SFC is one of the leading businesses that allows merchants to ship products from suppliers in China to customers around the world. They've got end-to-end global logistics that can help provide you with the perfect solution for getting products to customers.
SFC uses some of the best software and provides you with a free API so that arrangement for the collection of goods from suppliers, quality control and delivery to customers can be made. All orders are to be fulfilled within 24 hours according to their system.
SFC can deliver to global destinations and there are several shipping options available. You can choose the best option for your budget and speed. And all Shopify merchants can get special discounted shipping rates which are normally reserved for high volume partners.
SFC China Order Fulfillment Highlights:
Free to install the app but there are additional charges later on.
Collects orders from Chinese suppliers and ships them across the world.
Choose the shipment method based on budget and speed.
Ships across the world.
ShipReadyGo Order Fulfillment

ShipReadyGo is a great app for those looking for an order fulfillment service. The app is run by a company established and based in Shenzhen, China. They provide fast shipping solutions for businesses who are selling to customers across the world and offer these at a good, discounted rate. The platform is used mainly for those using Shopify, so they've got plenty of experience working with dropshippers and within the Chinese supply chain.
The company knows how to source, pick up and set up SKUs for your products. The app can also help with inventory management, logistical support and more.
The app is perfect for those who want a good shipping and fulfillment company from China that can take over the management of this area of the business. You can then focus on other elements of the business such as marketing and servicing customers post-sale.
ShipReadyGo Order Fulfillment Highlights:
Free to install the app on your website, but additional charges apply.
Perfect for those who want an easy to install and use app.
Integrates with your store for better fulfillment across the world.
Concentrate more on other business activities.
AllSome Order Fulfillment

AllSome Order Fulfillment uses their network of more than 150 fulfillment centers across China and Malaysia to allow you to collect products manufactured or sold there for you to send to your customers across the world. The app will automatically synchronize your orders, so there's no need to import them to a third-party app. There is also automation on your order fulfillment allowing for the best shipping option with preset rules you've set.
There is also real-time inventory management for you to use on your store. You never have to oversell your products and upset customers who make an order only to be told the order cannot be fulfilled. Customers can also track their parcel, finding out exactly where it is and you can have notifications sent to them and you.
The app allows for flexible costings, you pay more only when you're using their services more and there's the option for customers to be sent their goods in customized packaging. This can help your branding and build trust with your customers.
To help you improve your operations, you can analyze your shipping and offer reports. The app also supports cash on delivery orders and returns.
AllSome Order Fulfillment Highlights:
Can handle all kinds of situations for your business.
There are more than 150 fulfillment centers across two nations.
Global delivery network.
Custom packaging available for better branding.
Shipping Automation by Shipway
Shipway is a dedicated solution provider of effective shipping automation app to eCommerce merchants for their online stores. The app is easy to integrate with Shopify and stores on other platforms. The App enables you with a centralized panel for the order fulfillment process with all the major courier partners and aggregators such as FedEx India, FedEx International, DHL, UPS, Aramex, Bluedart, Delhivery, and many more. The panel allows you to auto-allocate courier partners according to zip codes, service types & weight, auto-generate thousands of shipping labels, invoices, auto-allocate courier packaging dimensions, etc. in just a few clicks.
The application gives your further access to the undelivered orders which may turn into RTO. It enables you to manage all the non-delivered orders and take automatic follow-ups from your customers regarding the re-attempt of the order delivery.
Besides forward shipping, Shipping Automation App helps you manage all your return orders as well. The app is fully-fledged to manage all your return queries end-to-end. With this return automation feature, you can auto-create reverse pickups with QCs, keep track of returns, generate instant refunds, automatically create an exchange, etc.
Shipway Highlights:
Save tons of hours of manual work.
Great customer support.
Free to install.
The low price per shipment makes the app really affordable.
Zonify ‑ Amazon Dropshipping

Zonify has been developed for Shopify store owners who want to increase revenues while also automating the workload. This app will automatically import the best products from Amazon with just a few clicks and then will automate the fulfillment process. Therefore, store owners can spend more time improving their SEO and marketing efforts and building sales than worrying about what they're going to stock and how to send it to customers.
Zonify is very user friendly. You can import products with just a few clicks of a button and you can use the Chrome Extension to find the best products on Amazon and then click 'Add'. You're also able to further add or edit information about the product to make it more unique and SEO friendly.
It's estimated that the process can save you about 15 minutes per product. This can be a significant gain for your website. The app works across Amazon stores including those from the US, Canada, UK, EU and further afield. Therefore, wherever you would like to source and fulfill your orders from you can.
Zonify ‑ Amazon Dropshipping Highlights:
Find products on Amazon and then add them to your store.
Use the free Chrome extension to speed up the process.
Automatic fulfillment of your products.
Works with numerous Amazon stores across the world.
EZ Fulfill ‑ Auto Fulfillment

This stops you from wasting time manually updating your tracking numbers on your Shopify store. The scheduler allows you to update order tracking numbers, mark orders as fulfilled and send tracking confirmation to customers automatically. This allows you to spend more time improving your website's SEO or marketing efforts to bring more customers to your store.
The app enables you to upload multiple tracking numbers into a single CSV or Excel file. These can then be used by your management teams to assess where products are. You can also include these in a dropbox file where the tracking information is updated every hour.
EX Fulfill is an easy to use app that has many benefits. You can both be proactive in ensuring customers and staff know where orders are and you can analyze the fulfillment process with 30-day analytics.
EZ Fulfill ‑ Auto Fulfillment Highlights:
Allows you to send notifications to customers about their orders.
Keeps a record of the position of the order at all times.
Updates information every hour.
Auto fulfillment program that is easy to use.
Ordersify Pick, Pack & Fulfill

Ordersify is an app that allows merchants to take a step back from the fulfillment side of the business and concentrate on getting the orders. The company will help with picking, packing and fulfilling orders to make Shopify a more profitable area.
The fulfillment of orders can be faster with a dedicated team helping you who have experience. They can fulfill and print many orders with just a click of a button and they can minimize mistakes. It will help you keep customers happy and improve customer retention. Ordersify will also allow you to print all documents with only one click.
The system allows you to have multiple suppliers for your customers. And you can use rules for how emails are sent to customers. For instance, you can tell the system not to send tracking information when there is no tracking number. Or you can send tracking information from a default location.
Ordersify Pick, Pack & Fulfill Highlights:
Can make the fulfillment of orders quicker and easier for your brand.
Allows you to have multiple suppliers.
Send notifications to customers but with a preset group of rules for the email system to follow.
Company can help with all aspects of fulfillment.
fulfillempire

This app is a full fulfillment service for your eCommerce business. They can source, purchase, store, quality check and fulfill orders for you reliably and for a cost-effective amount. This allows you to spend more time on your business' marketing and improving sales/conversions.
The app development team have had extensive experience and done lots of research in finding the best products for you to sell on your website. These products will be suitable for your budget and preferences. The sourcing team will also collaborate with suppliers to give you competitive pricing that's affordable and allows you to make a profit.
The development team have also allowed for your brand identity to remain intact. You can customize all product photos, videos and you can have the products repackaged when they arrive at the warehouse. You're able to customize the look, style and you can add your logo to the packaging. All products will be given a strict quality check too when they enter the warehouse to ensure that you're not sending out costly and faulty goods.
Fulfillempire Highlights:
Sources local products at a cost-effective price for you to sell on your website.
Quality checks all products being stored at the warehouse.
You can customize the packaging so it carries your branding.
Sends out orders as they arrive.
Easy Fulfillment

Managing an eCommerce business is hard enough without having to manually change certain elements that should be done automatically. For instance, should you need to add your own custom carrier just because they're not on Shopify or add the tracking codes to orders because they're not automatically uploaded for your carrier. These activities cost you and your store time and money. Therefore, you might want to use Easy Fulfillment to help.
This app allows you to add your carrier, set up a tracking link form and then bulk fulfil orders with tracking codes. This app will generate all the tracking links for you, therefore, there is less for you to do. The app can handle tracking codes that have been sent to you in Excel and if you're using a custom carrier, the links that can be used by customers to track these orders can be generated for you.
The app will also help you to send out shipping confirmations to customers. Or you can choose not to inform the customer.
Easy Fulfillment Highlights:
Choose whether you keep your customers informed and whether order notifications are sent out in bulk or not.
Track orders with generated tracking links.
Add your own carriers to the Shopify system.
Easy to use.
HyperSKU

This app allows you to seamlessly dropship millions of products to your customers within seven days. This makes it much more effective than some of the other dropshipping apps that are available on the market that can take more than three weeks to deliver products. There are more than one million premium products you can choose from in more than 10 categories.
Fewer products are ever out of stock on the system and price changes are infrequent. Therefore, you can spend more time managing your marketing than managing the prices and what is available for sale. And if there are products that you're specifically looking for, you can contact the support team and they will try to source it for you.
All product details can be customized. This can help with SEO and you can charge the price you want to for the products.
While the app developers do have an ePacket solution, they do have their own. Their own shipping routes deliver from China to the US and Europe within seven days. This is fully tracked and reliable.
HyperSKU Highlights:
An excellent dropshipping app that offers you more than 1 million products in 10 categories.
Need a product not listed? Then contact the support team to see if they can source it.
Ships to many destinations within seven days.
All orders have tracking.
Final Word: 11 Best Shopify Order Fulfillment Apps
If you're looking for an easier way to get your products to your customers, then you're going to need to use one of the best Shopify order fulfillment apps available. Some of them are rather basic, but others can be a great way to manage your orders and ensure customers are happy. Use one of the apps above to help you please customers and turn them loyal to your brand. Which of the apps will you use for your website?
Avi Klein
Vast experience in the online world. Shopify Expert, SEO expert, Web developer and consultant to several online companies. Read more about
our approach
to reviewing themes and apps.