10 Best Shopify Bakery Themes
Last modified: July 9, 2021
#
Image
Name

Get a Free Custom Shopify Store
1

Polaris

2

Blockshop

3

Plain

4

Trademark

5

Booster

6

Broadcast

7

Story

8

Artisan

9

Boost

10

Boundless

Show More
There has been a huge demand in the past few years for more local shops to sell specialist products like bread, pastries and other food items. There has also been a demand for an online ordering portal with customers collecting orders or local delivery options. If you would like to take advantage of this, then you will need one of the best Shopify bakery themes.
What are you Looking for with Shopify Bakery Themes?
There are many different things that you need to consider when you're looking to find the best Shopify bakery themes. The first is that you probably want a theme that is easy to manage. You want to spend more time fulfilling orders and servicing customers rather than managing your website. All the themes that are used on this list are easy to manage.
Another thing that you want to do is to have a good presence on search engines. Those who are ranked on the first three spots will get 75% of the traffic from search results. There are more than one million searches every month for local bakeries in the USA. If you rank in the bottom five, you're only going to get 2% of the search traffic.
Search traffic should contribute to about 70% of your website traffic. And the more traffic you get to your website, the better your revenues will be.
To help improve revenues there are lots of tricks that can be used. This is about conversion improvement. You can use urgency, social proof and more.
There are numerous Shopify bakery themes that you can use on your Shopify website. These are some of the ones that we would recommend.
Filter between free and paid
Polaris
Polaris is one of the best minimalist themes that's great for all kinds of businesses, just like bakeries. This theme focuses on the products that allow you to sell them with ease. You can use great sales funnel and you can therefore have one of the best converting websites. There are lots of features to help you achieve this.
The first option is the product filtering system. This can reduce the number of products that are available on your store. For instance, customers can see just your bread or cakes. This can help customers decide on what they would like to buy with ease. It can also help reduce your abandoned cart rates and improve the number of conversions there are on the website. There is also a quick shop feature that allows customers to speed up the purchasing journey on your website.
You can also build a long term relationship with your customers. You can subscribe visitors to your newsletter with a popup. You're also able to build trust with your audience with a review feature and you can promote your store through great social media sharing tools. Polaris is also a great option because it can show a map to your bakery to help customers collect orders from your store.
Polaris Highlights:
This is one of the most powerful minimalist designs that allows your site to load quickly.
There are lots of features that can improve the user's experience and convert more traffic.
You can use Google maps integration for customers to find your physical store.
This is a fully responsive design that allows visitors to shop while on their mobiles.
Blockshop
Blockshop comes with a set of four aesthetically pleasing website styles that give you the basic design of your website. There are numerous features to help you design your website and these are image and video-based. This is very important for online shopping.
There are also some really good blogging aspects to this theme that can be very helpful for building your ranking as those brands that blog will get more traffic. One key aspect of this theme is the video.
You can also use a wide layout design. This can help you make the most of the imagery for your website and brand. All images look big, bold and beautiful. This will improve the product's attractiveness and improve the conversion rate on your website. There is also the option to have numerous slideshow. These slideshows can be used to promote products on your store. Slideshows can also be used across other pages.
For navigation, there is a great multi-column, dropdown menu that can help customers find what they're looking for.
Blockshop Highlights:
This has been optimized for search engines, so you can be found on Google and other search engines.
You're able to have your theme optimised for mobile viewing for increased user experience.
Perfect for those who are looking to engage audiences with lots of touchpoints.
There are free stock images provided by Burst to help populate content on the website with professional imagery.
Plain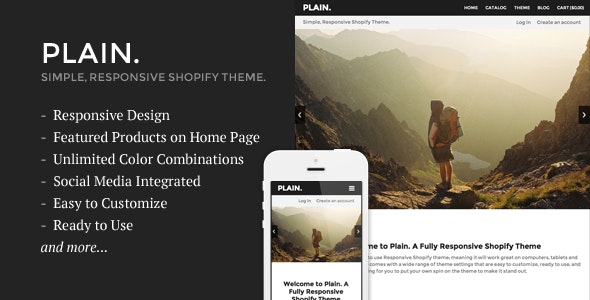 This is one of the most aesthetically pleasing Shopify themes that you can use on your website. It should certainly be one of the contenders for your website. This theme is perfect for almost any kind of store and is great for bakery stores. It is super-responsive and able to display your products in perfect clarity, no matter what device your visitor is using. The final result of your website should be one that is sleek, modern and aesthetically pleasing.
You can upload your existing logo with this theme or you can build a new logo using the inbuilt logo builder. The new logo will be text-based. This can further enhance your brand and you can use the logo as a custom favicon that can improve your website's branding and search ranking.
This theme allows for good customization. You can match the background of the theme to your brand's colors. This can help align your brand to the website. You're also able to customize the buy buttons on your website. You can test the button colors to find what is going to help you convert more.
Plain Highlights:
There is a lot of menu options that allow you to build better navigation across your store.
There are great social media integrations to build better engagement with your audiences.
Optimized theme for search engines, allowing you to build better search rank.
Lots of features allow you to improve the order values.
Trademark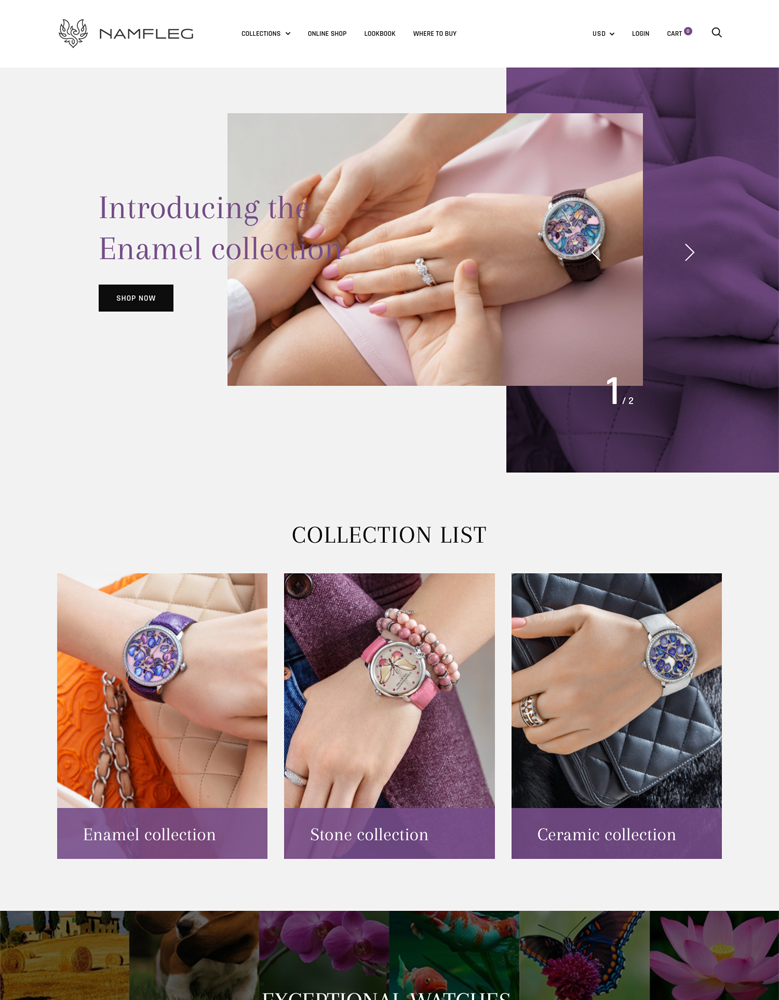 Trademark is one of the best Shopify themes for those who want to showcase their products with great images. Two style options can be used with more great features that can create an impressive website. There is a live search feature on your website that can help customers find the products that they would really want. There is also a multicolumn menu option that allows for your products to be featured as images. This can help customers find exactly where they need to go on the website.
You can promote your brand using images, videos and text within a beautifully designed slideshow that can be animated. You can locate the slideshow on the homepage to attract the attention of your audience. With the versatile blog slider, you can showcase the latest news, advice and more on your blog in a slider that will grab the audience's attention.
You're also able to save a video to your website. A good video on your website can help convert on your website.
Trademark Highlights:
This includes an Instagram feed that allows you to showcase social media updates.
Optimize your website for search engines, allowing you to rank higher.
Showcase your products in a live search feature.
This theme is great for fast speed and improved conversion rates.
Booster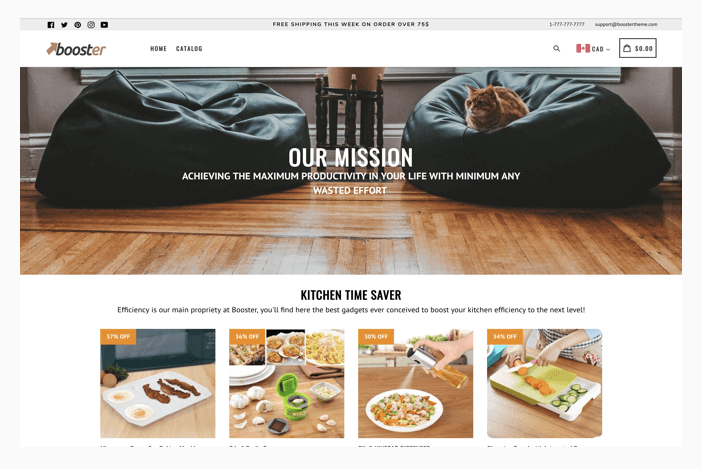 Booster is one of the top apps for any niche and is great for Shopify websites. It is more than just a theme, it has a wide range of tools that can help you improve your marketing and website. The number of features, like live chat and more, can be really useful and can save you lots of money on app subscriptions. According to the developers, you can save approximately $3000 a year on app subscriptions.
There are numerous features on this theme that can improve your website's performance. For instance, there are A/B testing features, newsletter signups and more.
The theme for this app is also good for ranking high on Google and better speed. The faster the website the more conversions you will have and the higher you will rank as well.
Booster Highlights:
Save more than $3000 on apps with all the additional features on your theme.
This is one of the fastest themes with load times often at 0.6 seconds.
Can reduce the cart abandonment on the website to improve revenues generated.
Excellent when you would like to attract lots of mobile customers.
Broadcast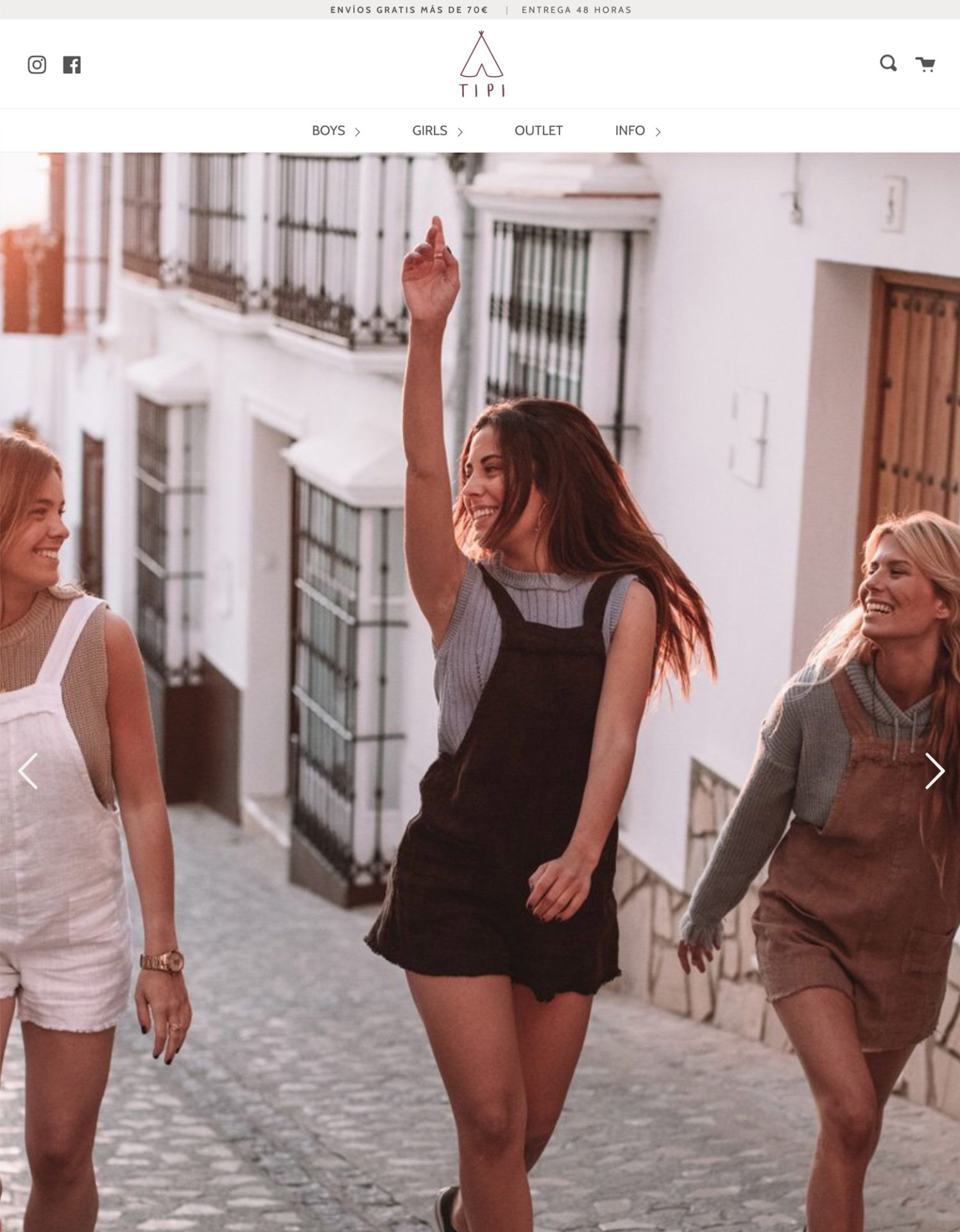 Broadcast is one of the best options when it comes to building an effective and highly converting website. It is great for attracting a large and varied audience with lots of imagery that can help you sell food items like bread, cakes and pastries. You're also able to market these products on the popular social media network Instagram. You can create posts and centre them around your products.
To help promote your brand, you can use a video. There is a space for a homepage video to showcase the best products you have in-store. The video on this theme allows you to set a featured video or a background video.
There are also lots of ways to build trust with your audience. The first is to use the testimonial section on your website. You can also use Disqus blog comments to take audience engagement to the next level.
Finally, there are lots of different ways to improve conversions rates across your website. There is a fantastic product 'quick view' that can speed the shopping process on your website. And you can also use the inbuilt swatch system to offer product variations on your website (like size or cut/non-cut). This is one of the best websites you can use for your bakery.
Broadcast Highlights:
Rank highly on search engines with optimized coding and a design that is perfect for good ratings.
Use swatches to offer customers variations on your store.
Optimized for mobile visitors, to allow your site to be shown to a larger audience.
Use free stock images on your website through the supplier Burst.
Story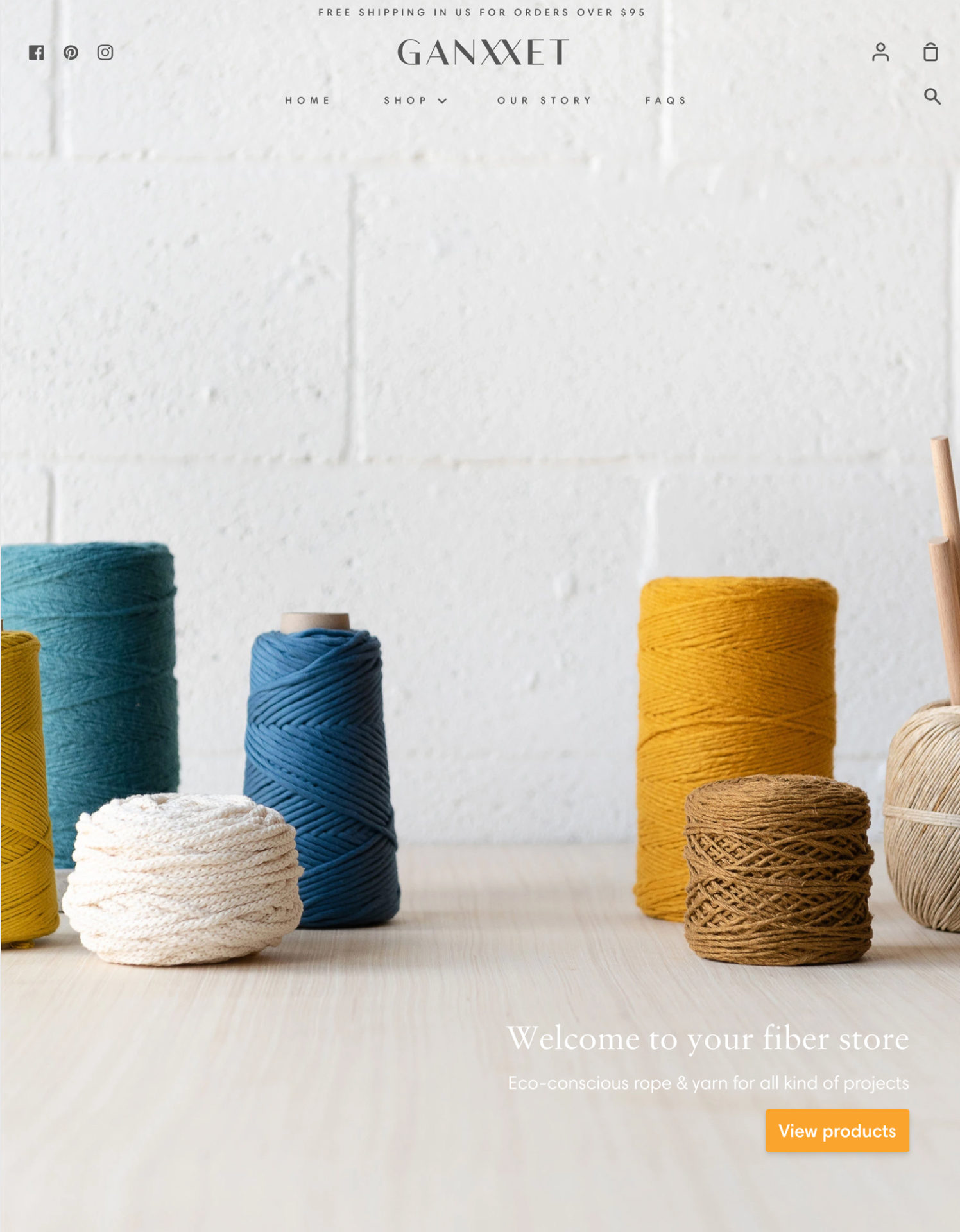 Story is one of the best themes if you want to add a narrative to your brand. You can build a background story that can improve the engagement with your audience and this can help you convert more of your website's traffic. You're able to use the story published on your website to emotionally engage your website's audience.
You don't have to talk about the brand, you can engage your audience with a story about your products. This can be a good way to tell customers more about your brand without being too salesy.
There are also lots of other features for your website. This includes the custom made contact forms and more than can help customers keep in contact with you. You're also able to use collection filtering to help improve the customer's experience while shopping on your website. Filters can be applied that display on the products that the customer would like to see based on brand, price, type and more.
Story Highlights:
This theme allows you to engage your audience through the power of storytelling.
You can showcase the team behind your products through staff pages.
This theme has been optimized for search engines. This can help you bring more traffic.
This theme is completely mobile-friendly, allowing guests to use any device to view your website.
Artisan
This theme is one of the best themes for displaying some of the aesthetically pleasing images and designs for your website. It is perfect if you're looking for your website to look showcase artistic creations, like cakes, bread or more products. The image gallery can showcase your products in a masonry-style layout. There is also the potential to share your images on your Instagram account.
To help draw attention to your products, you can feature one product on any collection page. This can increase the sales of that product with ease and it doesn't cost you anything else. You're also able to feature pricing tables on your website, great if you're offering catering services or bulk orders on your website.
You can build trust with your website through a testimonial section that customers can read. They can also share more feedback. You're also able to publish more feedback and reviews that you've had from other customers. You can also engage audiences through a customized form.
Artisan Highlights:
An aesthetically pleasing design has three styles for you to choose from.
Draw attention to the audience for specific products with images.
Optimized for search engines to help increase sales and improve your website's traffic levels.
You can reduce the loading times for your website.
Boost
Boost should not be confused with Booster that's mentioned earlier in the article. However, they are very similar. Boost is another fast theme with your website loading within a few seconds. This is partly achieved through a clean code that has been developed. There are also other options that allow you to improve the website's design.
The app, for instance, uses image hotspot linking capabilities to create link labels. This a connection between an image and the product represents. The link can be on any page, blog posts or more. You can also use custom promotional tiles. This can be used to increase sales by promoting sales, discounts, key products and more. The design of these promotional tiles is very aesthetically pleasing and can increase trust levels.
To help improve your shopping experience for your customers. The first is a predictive search options. This live search option is great if you have a varied catalog. You can also the related products/blog posts on the website.
Boost Highlights:
Use swatches to display variants of the products you have.
Perfect for SEO, with super-fast loading times for your website.
Integrate social media with icons and more for connection.
Use free stock images from Burst.
Boundless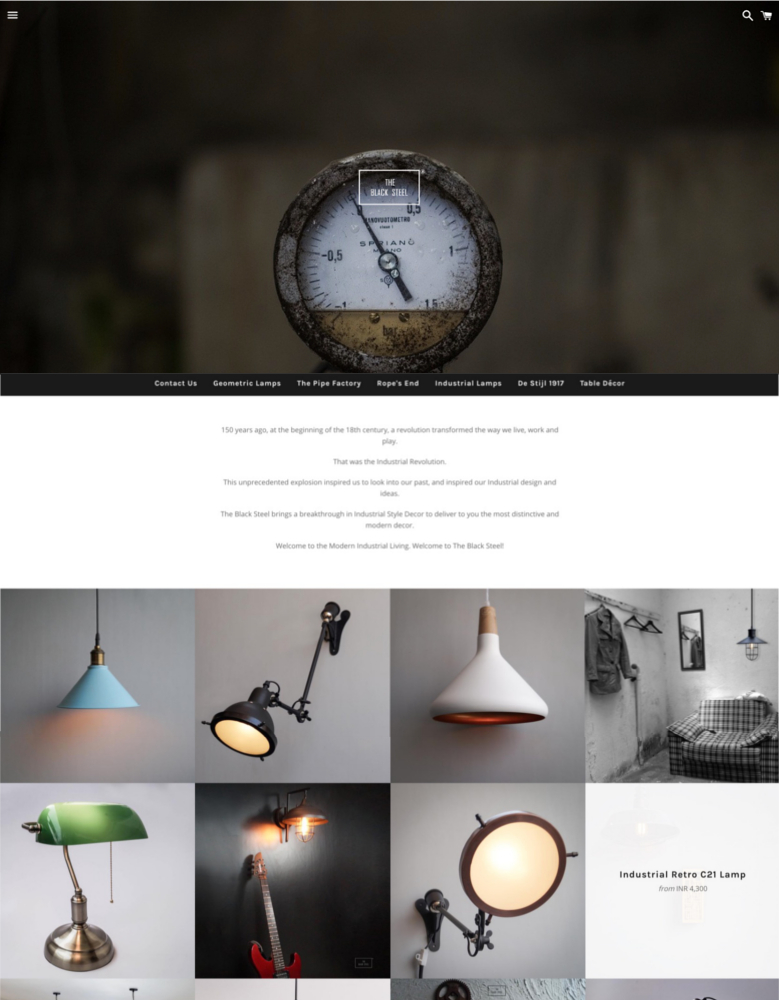 This is another free, minimalist theme that can help you showcase your products on a really tight budget. There are some great features that you would not normally find on a free Shopify theme. For example, you can find sticky navigation on the theme that can scroll down the page as you go down the page.
The theme has also be optimized for showcasing your products with large, very impressive images. There are lots of options to also add a homepage slider to feature your best products. This can include a great fading effect that can improve your website's professional feel.
Finally, you can use a hero video on your front page. Those websites with videos can convert more traffic and improve revenues.
Boundless Highlights:
This is a free theme that allows you to save costs while having a professional website.
Use a slideshow to show the best products to build a brand.
Optimized for ranking on search engines.
Make the most of your images with this theme.
Final Word: 10 Best Shopify Bakery Themes
If you're looking to get your bakery up and running online, then you need one of the best Shopify bakery themes. There are numerous options available for you with the ten best above. Which one will you install?
Avi Klein
Vast experience in the online world. SEO expert, Web developer and consultant to several online companies.
Read more...
. Read more about
our approach
to reviewing themes and plugins.